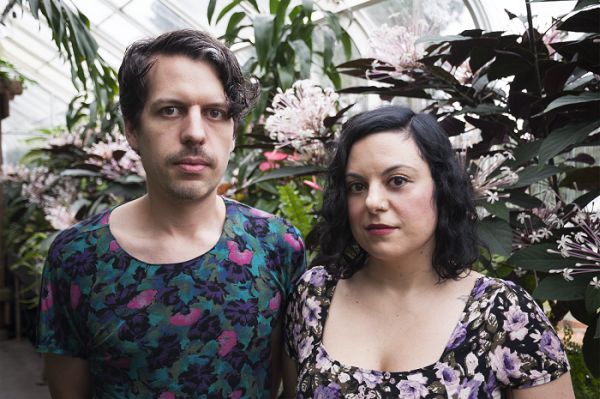 6 May 2019
Golden Gardens – Photo courtesy of Golden Gardens
Seattle-based dream-pop duo Golden Gardens craft moody and ethereal pop-tinged anthems perfect for the enigmatic and silvery landscape of the Pacific Northwest. Originally formed by vocalist Aubrey Bramble and multi-instrumentalist Gregg Neville in 2010, the current lineup features Bramble and multi-instrumentalist Carl Germain (who joined the band in 2017).
The duo conjure a musical landscape that is both luxuriously ephemeral and subversively dramatic on their songs. The Big Takeover swoons over one such track, the hazy and atmospheric "Desert Rose", which gets its premiere right here.
"Desert Rose" is Golden Gardens' latest single and it was co-produced and engineered by Randall Dunn (Chelsea Wolfe, Marissa Nadler) at Avast Studios in Seattle in January 2019. Bramble and Germain explore new ground for the band on this song, combining reverb-drenched guitars with analog and modular synthesizers and more deeply intimate vocals. This effort also showcases greater songwriting involvement for Bramble who contributed bass guitar to the recordings and shared production duties with Germain.
"Desert Rose" opens with strict, echoed drum strikes contrasted by sinuous synth lines and the subdued glow of reverb guitar. Pattering percussive elements and floating synth notes add to the mysterious, yet expansive ambiance as Bramble's hushed, alluring, and at times aerial vocals suffuse through tune like an enchanting perfume.
Golden Gardens have embarked on a 7-week tour that kicked off in mid-April, visiting cities all over the United States as well as Canada. This summer they will be back in the studio with Dunn, recording additional songs for an untitled album that will be released later this year.
Their previous LP, Reign (produced by Martin Feveyear), spent multiple weeks at number one on the KEXP 90.3 FM Northwest Music Chart and made it onto the Village Voice Music Critics' Top Albums of 2016.
Website
Facebook
Twitter
Instagram
YouTube