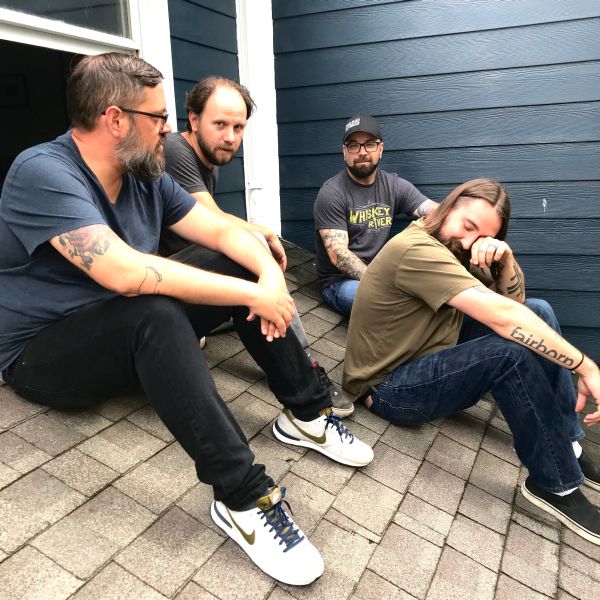 23 November 2020
The 1984 Draft – Photo courtesy of The 1984 Draft
Dayton, Ohio's The 1984 Draft, a band that channels American rock sensibilities through a '90s-tinted punk and indie lens, is set to release their Destination Breakdown single on November 27th.
The single (A side/ B side) was recorded by Fred Vahldiek (Dark Backward) at his Fredzoz studio in the band's hometown of Dayton. Destination Breakdown is composed of two songs, "Shame About Grace" and "Counting Up," which were written during isolation due to the COVID-19 epidemic.
This marks the first time the band has created and released recordings without ever playing the songs to a live audience.
"The last six months have been really hard. Basically, my one social outlet was taken away from me in not being able to play shows. I think I had to write just to survive," singer/guitarist Joe Anderl says. "With the timing of the outbreak, I found myself dealing with deep emotional and mental struggles. I was trying to adjust working from home, keeping my family safe and secure, all while trying to personally figure out what all this meant and how to cope."
"Then you add on the 2020 election cycle, cops killing innocent people, and people refusing to do what is right for the greater good and you begin to have even more anger. This pandemic has brought out the best and worst in people. I've lost friends because they don't believe in mask-wearing. I've lost friends because our beliefs on how people should be treated is different. I'm ok with that. I would rather have one less friend than not stand up for what is just and right in this world."
Joining Anderl in The 1984 Draft are guitarist Eli Alban, bassist Chip Heck, and drummer Justin Satinover. To date, the band have released a compilation track, a pair of EPs, and an LP. They've supported Beach Slang, Radar State, Haymarket Riot, Hawthorne Heights, Extra Arms, Relaxer, Chris Conley of Saves The Day, Vinnie Caruana of The Movielife, Anthony Raneri of Bayside, Geoff Rickly of Thursday, Six Gallery, and more.
Big Takeover stoked to host the premiere of the 2-song single.A-side
"Shame About Grace" is a vibrant socio-politically relevant rocker that flows with shining guitar lines, lightly grinding bass churn, rhythmically shaking percussion, emphatic drum strikes, and sporadic cymbals crash.
Anderl emotes with heartfelt passion about the sad and sorry state of our society and how we interact uncivilly with each other. He bemoans the fact that, "It's a shame of this age… / Your actions resonate… / You're forgetting simple grace."
B-side "Counting Up" is a simmering rumination that intensifies to a chugging indie rocker mid-way through. A rueful Anderl deals directly with the effects of the pandemic on daily life, sing-talking in an at times frustrated tone about the details of how he now spends his time, revealing, "I write songs I sing on my own / I can't see my friends…"
Anderl explains the meaning behind Destination Breakdown, commenting, "This record is our little slice of what it's like to be musicians, parents, and humans during a pandemic. It's important to recognize and capture this moment in time, what we have struggled with, and be really honest with ourselves and others in our struggles and successes: the struggle is in the words of the songs, the success is that we were able to safely get together to record and put this out. It's been scary and uncertain, but we have strived to find the little slices of light along the way."
The 1984 Draft's album Makes Good Choices arrived in 2018 via Poptek Records. It received rave reviews from Ghettoblaster Magazine, Wannabe The Comic, A Diverse Sound, Soundblab, Oklahoma Lefty, Us For Once, Punk Music UK and more, and topped that year's "Best of the Year" at many other online outlets.
Their Heisman Trophy Winner EP was released via Gas Daddy Go! (the boutique label of former Guided By Voices drummer Don Thrasher) in November of 2015. They were also one of 24 Ohio bands featured on the 10th anniversary Aquabear Legion double vinyl compilation that year.
In 2014, The 1984 Draft released their EP, Bo Jackson Up The Middle, via We Want Action (84 Nash, She Bears, Tiara). The EPs were recorded at Popside Studio with Micah Carli (former guitarist for Hawthorne Heights), who also took up engineering and mastering duties on the Heisman Trophy Winner EP.
The Bo Jackson Up The Middle EP saw the light of day in advance of the release of an NFL Network documentary on the actual 1984 NFL Draft, in which the band is featured. NFL Films captured them live in the band's hometown on January 10, 2014. The documentary aired on April 30, 2014 and continues to air each draft season on the NFL Network and followed print and web features on the band in Sports Illustrated, The Omaha World Herald, and New Noise Magazine, to name a few.
The 1984 Draft is recommended for fans of The Replacements, The Lemonheads, The Smoking Popes, Jawbreaker and Sugar.
The 1984 Draft at Poptek Records
Facebook
Bandcamp