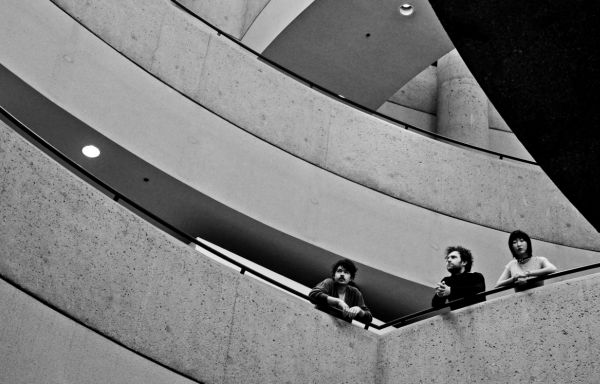 15 April 2019
Second Still – Photo Credit: Allison Littrell
Second Still, a three-piece band from Los Angeles, are set to release their second album, Violet Phase, on May 3rd via Fabrika and Sentimental Records. The LP was recorded, mixed, and produced by Ben Greenberg and mastered by Sarah Register.
While the group's roots are grounded in '80s post-punk and French coldwave, their sound has evolved to combine their '80s-inspired foundation with modern electronic elements and nods toward conventional pop song structure.
Alex Hartman and Ryan Walker met vocalist Suki Kwan in New York in 2014 and Second Still was created. They have since released two EPs – Early Forms (2016) and Equals (2018) – as well as their eponymous debut album in 2017.
The Big Takeover is psyched to host the premiere of "Double Negative, the second single from the upcoming LP. The track follows the first salvo, "New Violet", and precedes Second Still's touring schedule which sees the band in Europe for a slew of shows through mid-June. See below for the full itinerary.
Violet Phase was written in the winter of 2019 in Joshua Tree and Idyllwild, California. The songs retain the power and intensity of Second Still's previous output, but also show an evolution of Second Still's sound and progress forward into sonically uncharted territory. The synthesizer moves to the forefront, creating pulsating bass patterns, atmospheric ambient soundscapes, and captivating lead hooks.
Elements like saxophone, violin, and carefully selected samples also underscore the more exploratory approach the band took with the album. These new elements, blended together with Second Still's post-punk and coldwave foundation, form an album that is something familiar yet entirely unique in its own right.
"Double Negative" is a fast and noir synth-driven track that builds in intensity a minute-long outro. Its Motorik pace never relents as frantic percussion and a smacked drum beat agitate and eerie,floating synths displace. Kwan sings in a dispassionate and direct tone, but sweetly curls her vocals up higher at the end of specific phrases.
The song underscores Second Still's departure from the guitar- and bass-driven post-punk of their past releases, and the band's move down a more electronic and experimental path to songwriting for Violet Phase.
The band explains the meaning of the song, divulging, "The lyrics for "Double Negative" are about a come down on ecstasy. The serotonin is spiraling, and you realize you're stuck in the same boring life you began your night with. You can't fully enjoy yourself, let your guard down, or remember the people you just spend the last four hours with. This is a theme song for negative people."
TOUR DATES
24 May – 1000FRYD; Aalborg, DK
25 May – Plan B; Malmo, SE
27 May – Shokoladen; Berlin, DE
28 May – Munzgasse 13; Tübingen, DE
29 May – Tsunami; Koln, DE
31 May – GC Den Dries; Retie, BE
01 June – The Dome; London, UK
02 June – The Peer Hat; Manchester, UK
05 June – TBD; Toulouse, FR
06 June – Mister Mojo; Tarragona, ES
07 June – Wurlitzer Ballroom; Madrid, ES
08 June – Sala Upload; Barcelona, ES
09 June – Kafe Antzokia; Bilbao, ES
10 June – Le Farmer; Lyon, FR
12 June – Kaserma Karlina; Prague, CZ
13 June – Hafen 2; Offenbach AM Main, DE
14 June – Baroeg; Rotterdam, NL
15 June – The Veg; Siegen, DE
11 July – Echoplex (w/Cold Showers); Los Angeles, CA