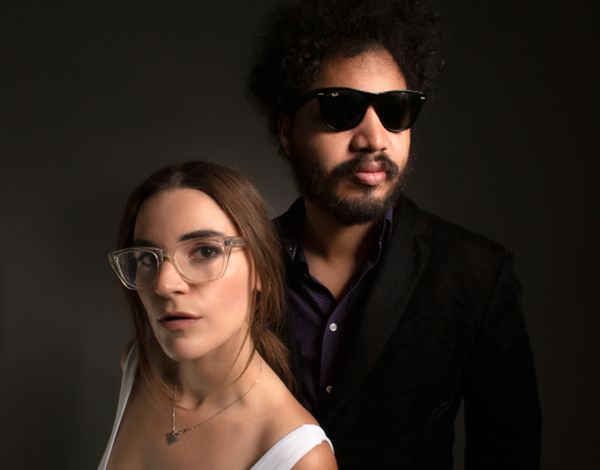 6 October 2020
Purple Witch of Culver – Photo courtesy of Purple Witch of Culver
Purple Witch of Culver, which recently reformed, features saxophonist Sarah Safaie and producer/multi-instrumentalist Evan Taylor. The outfit is releasing a stream of music that will carry them into 2021, with second single, the funky jazzoetry number "Eulogy for a Sunbeam." The song will be available on all streaming platforms and digital download retailers on October 16th, as well as via Loantaka Records.
Big Takeover is pleased to host the premiere of the 7-minute jazz and poetry flow built from a wall of sound and words.
"Eulogy for a Sunbeam" starts with a dark tumbling drum beat, gospel-tinged organ, and Safaie's meandering yet unapologetically piercing poetry that demonstrates the band's ever-developing effort to create sonic imagery in conjunction with poignant words and phrases.
The intimate nature of the poetry set to an expansive large ensemble soundscape is like little else populating the current musical landscape. It's a reflection of the diverse influences both Safaie and Taylor brought to the recording session at which it was birthed.
The song emerged out of an experiment with superimposition of rhythm and frequency and blossomed into a narrated exploration into the psyche surrounded by colorful sonics. The piece was recorded in its entirety in one day at Loantaka Sound studios in Downtown Los Angeles. Taylor and Safaie continued to work with their preferred all-analog recording medium.
Safaie says the experience felt both organic and electrifying, leading the pair to decide to make their partnership a full-fledged band. "We were so inspired by that song that we just wanted to keep doing more."
Safaie and Taylor are experienced musicians in her/his own right, with Safaie being raised on bebop and jazz, attending the New School for Jazz in NYC, getting involved with the legendary St. Mark's Church Poetry Project in NYC's East Village, and immersing herself in NYC and L.A.'s music scenes.
Safaie met up with Taylor in L.A. and the musical connection was instantaneous.Taylor's credits and list of collaborators include Jimmy Destri (Blondie), Jerry Harrison (Talking Heads, Modern Lovers), Mike Watt, Theresa Wayman (Warpaint), and Money Mark (Beastie Boys).
Taylor also runs Loantaka Records and, most notably for Safaie, he was part of the extended Parliament family, having worked as production partner with Bernie Worrell, the keyboard wizard of Parliament-Funkadelic, and collaborator with Talking Heads.
Loantaka Records Website
Purple Witch of Culver Facebook
Bandcamp