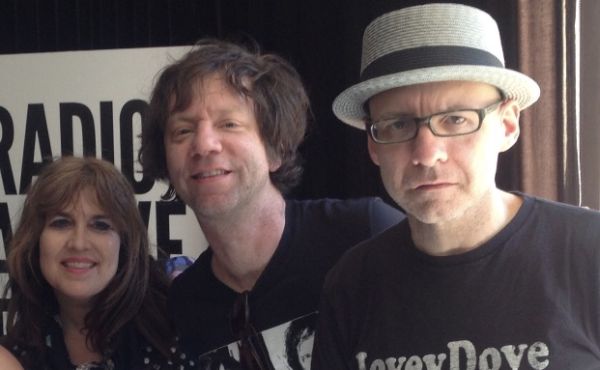 16 April 2020
Azalia Snail, Dan West, and John S. Hall of You, Me, and This Fuckin' Guy – Photo courtesy of Dromedary Records
John S. Hall of King Missile fame is back with the music project You, Me and This Fuckin' Guy (formerly King Missile IV), which features other veteran musicians Azalia Snail and Dan West of LoveyDove.
As You, Me, and This Fuckin' Guy, they are releasing their debut album, Garden Variety Fuckers, out April 17th via Dromedary Records.
Adopting the persona of cranky, nature-loving poet named This Fuckin' Guy, Hall expresses wondrous appreciation for the beauty of the world around him, both urban and natural, but doesn't suffer fools – at all!
This Fuckin' Guy's feathers get ruffled mainly at the ignorant and obnoxious people that break into his copacetic life and fill his day with strife. This dude's got an uber-rude 'tude for those offenders, whereby he racks up the F-bombs with easy. And, actually, even when he's his laid-back self, this guy does mind peppering his sentences with a heavy dose of expletives in his Jersey Shore -like intonation.
The music is created by Snail and West and is equally singular. Utilizing Snail's trademark spacey vocals and vintage omnichords in conjunction with West's arsenal of virtuous musicality, the duo creates the perfect gently innocuous cushion for Hall's extremely prickly stream-of-consciousness repartee.
Hall may be best known as the lyricist, vocalist, and co-founder of legendary Atlantic and indie recording artists King Missile ("Detachable Penis" was a big hit) He's a NYC favorite, performing spoken word and singing as a solo artist in several area musical projects including Unusual Squirrel, The Hat Cousins, The Lincoln Memorial, and Sensation Play.
LoveyDove tour Europe regularly and are working on a third album. Snail's most recent solo album is Neon Resistance and West's latest is d'Animal l'Ogic. West is a composer and arranger, music producer, and mastering engineer.
Big Takeover is enthused to host the premiere of the audacious, totally NYC-lovin'/hatin' and livin' tune"F.B.I" where an aggrieved This Fuckin' Guy assaults the ears with a non-stop verbal barrage of self-righteous profanity. It would be utter inanity and insanity except that it's, well,… yeah, kinda funny, ya' know? Because there are some pretty spectacular weirdos that make up the complexity of the city, and I'm not just talkin' about any F.B.I.-impersonating loonies!
Enjoy some chuckles, along with a few groans, below. Meanwhile, the synths music is really calming and Snail's dreamily floating vocals are really pleasant!
(Pre-) Order Garden Variety Fuckers at Bandcamp
Dromedary Records Website