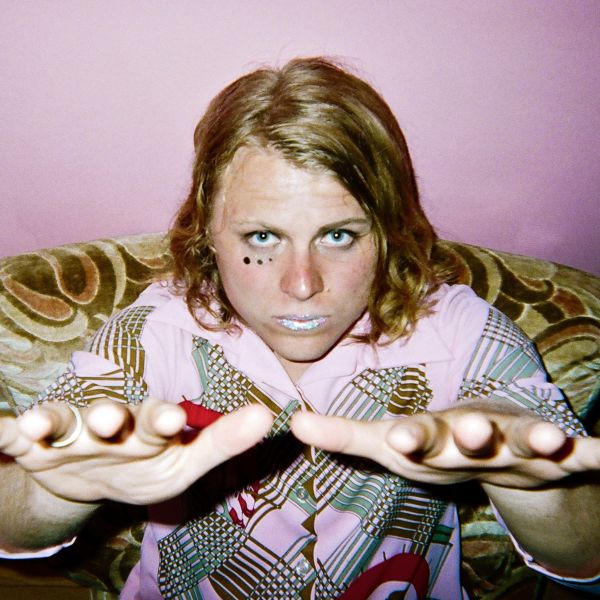 30 October 2018
Ty Segall – Photo Credit: Denée Segall
Ty Segall has got to be one of the most prolific musicians of our time. If 2018 is any indication, he likely never sleeps and has a massive amount of ants in his pants. He's already released four full-length albums this year, including his just released Fudge Sandwich LP, Freedom's Goblin, his collaborative effort with White Fence, and the latest record under his GØGGS name. Now based in Los Angeles, the 31-year-old noisemaker shows no sign of slowing down.
Segall is also currently in the midst of a solo acoustic tour, in which he is showcasing deep cuts and live rarities as he travels the U.S. coast to coast. He is joined on select dates by Nashville guitar virtuoso William Tyler and Freedom Band staple Emmett Kelly.
Today The Big Takeover has the pleasure of premiering the track "Fanny" (Original Demo) from his new 7" vinyl-only maxi-single "Fanny", which is being released by Aagoo Records. "Fanny" is a psychedelic ode to his dog and is available on standard 7" and picture disc editions.
This original demo is slower and more lo-fi than his final pumped-up production of this same song. The original exposes the pure roots of this track with a distinct '70s laid-back groove and perhaps it's this type of tempo that best conveys the heartfelt connection Segall has with his pet.
Segall earnestly digs into the track with his vocals, coming up with a passionate view on the bond between human and dog. A sprinkle of lighter harmonies rise along with his exclamations, while country and blues guitar licks and sparking cymbals and drums add flesh to this demo's bones. It's a real treat to listen to.
Not only does Segall's single feature various cover and insert art painted by Segall himself, but the track also comes in three different forms: the demo, a revved-up "sketch", and a live recording from San Diego, California.
Each side of the picture disc features a yellow dog face painted by Segall, from his acrylic painting 'Goopy Poodle'. It's quite fitting that Segall would dedicate this song to his dear canine friend.
The outdoors and animals are two subjects that Segall finds very close to his heart, which is why it should come as no surprise that Segall, together with Aagoo Records, have arranged for the proceeds from these vinyl sales to go to a good cause. Namely, they will benefit two separate animal rescue organizations – NKLA and Mighty Mutts. Both are dedicated to rescuing and rehabilitating stray animals in Los Angeles and New York.
"Fanny" 7" will be released by Aagoo Records on November 16th, but already now this vinyl-only release can be ordered from the label's website
TRACK LIST
1. Fanny Original Demo
2. Acoustic San Diego
3. Fanny Sketch
TOUR DATES
11/02 – Chicago, IL at Thalia Hall (in the round) (with William Tyler)
11/03 – Detroit, MI at Museum of Contemporary Art Detroit (with William Tyler)
11/04 Buffalo, NY at Buffalo Iron Works (with William Tyler)
11/06 – Winooski, VT at Higher Ground (with William Tyler)
11/07 – Portland, ME at Port City Music Hall (with William Tyler)
11/08 – Hamden, CT at Space Ballroom (with William Tyler)
11/09 – Brooklyn, NY at Warsaw (with William Tyler)
11/12 – Philadelphia, PA at Underground Arts
11/13 – Washington, DC at 9:30 Club
11/15 – Asheville, NC at Grey Eagle Tavern and Music Hall
11/16 – Atlanta, GA at Terminal West (with Emmett Kelly)
11/17 – New Orleans, LA at One-Eyed Jack's (with Emmett Kelly)
11/18 – Austin, TX at J. Lorraine Ghost Town (with Emmett Kelly)
Also enjoy Ty's rocking performance of "Fanny" live at KCRW Santa Barbara"
Website
Facebook
SoundCloud
Bandcamp
Instagram
Spotify