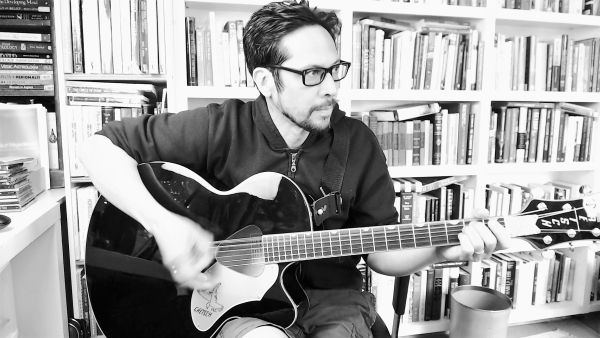 26 February 2019
Fred Abong – Photo Credit: Fred Abong
It's intriguing to watch how some artists weave in and out of their music, as if they are creating some massive quilt-work of their lives, together with whatever other pursuits they have on the side. Some people handle these simultaneously, while others simply disappear from the music scene for some time and then suddenly reappear again, as if they had never left.
Fred Abong fits into the latter category. We early introduced his Homeless EP last year and the song LAX by Kristin Hersh, for which he contributed bass, as well as his collaboration with Boston-Rhode Island collective The Pull of Autumn. You could say Fred Abong has something worth returning to again and again.
Now he's back with a new offering – the 6-track Pulsing EP will release on March 8th, the same day that his UK tour with Kristin Hersh kicks off. As a solo artist, Abong will be supporting Hersh on this tour. But he will also be playing bass in Kristin Hersh's live electric trio, together with Rob Ahlers, drummer in Hersh's power trio 50FOOTWAVE.
Ahead of the EP release, Abong presents "Firefly" and we have the honor of premiering this mesmerizing track. Powered by a looping, hypnotic noise, a contemplative Abong carefully draws out his words in a shaded tone amid subdued acoustic guitar strokes. It's a deceptively lulling cover for a heart that's in turmoil.
Fred Abong is best known as former bass player for both the influential art-punk band Throwing Muses and Grammy-nominated alt-rock band Belly. But he's been immersed in academia for the last eight years or so, completing a Ph.D. in Humanities and working as an adjunct professor in the Religious Studies, Philosophy, and English Departments at various universities. Abong's solo music has been described as cross between "ragged Replacements and lyric-driven Bob Dylan," and as "Elliott Smith with balls."
"This EP was inspired by life and life events. You can fill in the blanks here to your satisfaction – relationships, loss, death, ecstasy, identity, longing, transformation, frustration, desire, love, hate, … etc.," says Fred Abong.
"Songs are only one possible manifestation of the inspiration that informs existence; and if that's true, then maybe focusing less on the specifics of the inspiration behind someone's songs and more on the pervasiveness of inspiration in each of our lives would be of more benefit and utility. Your own life, in other words, is just one song after another. You should listen to those first. If you want some company after that, then by all means give the songs on Pulsing a listen."
Prior to being in Throwing Muses and Belly, Fred was active as a drummer and bass player in numerous bands centered on the Newport, RI hardcore punk scene, which gave rise to bands like Vicious Circle and Verbal Assault. Partly because of these DIY roots, Fred left the music 'business' after the release of Belly's Star in 1992, choosing instead to quietly and independently pursue his own music.
Most recently, Fred contributed bass on Kristin Hersh's new Possible Dust Clouds album, released in late 2018 via Fire Recordings, as well as working with Rhode Island-Boston collective The Pull of Autumn, for which he contributed 'Vanishing Spell'.
Earlier, he worked with Tanya Donelly, former bandmate in both Throwing Muses and Belly, on the song 'Snow Goose and Me' for her 2016 Swan Song series, a track that ABC News dubbed "a moody, expressive bit of songwriting that will demand repeat listens."
Fred Abong's LP will be released digitally via Bandcamp. CDs will be available exclusively at shows during his UK tour. More tour info can be found HERE.
"LIVE AND LOUD" TOUR 2019 with KRISTIN HERSH
8th Mar: Engine Rooms, Southhampton, UK
9th Mar: West End Centre, Aldershot, UK
10th Mar: Bush Hall, London, UK
12th Mar: Bush Hall, London UK
13th Mar: Sub89, Reading, UK
14th Mar: Storey's Field Centre, Cambridge
15th Mar: Holywell Music Room, Oxford UK
16th Mar: Philharmonic, Liverpool, UK
17th Mar: Cluny, Newcastle, UK
18th Mar: Perth Theatre, Perth, UK
19th Mar: Mono, Glasgow, UK
20th Mar: Voodoo Rooms, Edinburgh, UK
21st Mar: Left Bank, Leeds, UK
22nd Mar: St Phillips Church, Salford, UK
23rd Mar: Hare & Hounds, Birmingham, UK
24th Mar: Glee Club, Nottingham, UK
26th Mar: Tramshed, Cardiff, UK
27th Mar: Phoenix, Exeter, UK
28th Mar: The Fleece, Bristol, UK
29th Mar: Arts Centre, Colchester, UK
30th Mar: St Paul's, Worthing, UK
31st Mar: Quarterhouse, Folkestone, UK
1st April: Norwich Arts Centre, Norwich, UK
Also check out some of his recent output over the past few years:
FRED ABONG
Website 

Bandcamp
Twitter
Instagram
Facebook 1
Facebook 2
comments powered by