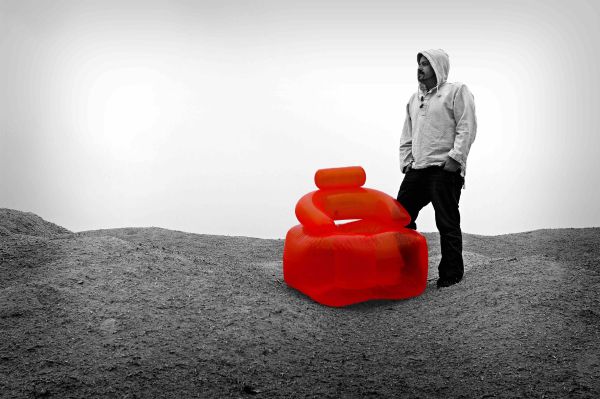 20 November 2018
David Elfström Lilja of Moist – Photo Credit: Dan Wahlbeck
While we often venture eastwards across the Atlantic for new music finds, it doesn't often happen that we find this path leading to Sweden. Today The Big Takeover has the pleasure of introducing our readers to the sublime sonic offerings from electronic artist Moist (a.k.a. producer, artist, and remixer David Elfström Lilja).
We present the premiere of "Firefly" off at his new album Lavine, which will be released on limited edition CD and cassette on November 30th via I/O Music.
Based in Söderhamn, Moist is no stranger to the music scene, having officially remixed artists like Pet Shop Boys, Imogen Heap, Moby, Erasure, The Knife, Butterfly Boucher, Red Snapper, Agnes, and Antiloop. His remix for Butterfly Boucher ranked among Popservations' (US) yearly Top 25 remixes of 2012. Moist was earlier featured in The Guardian in regards to pitiful royalty rates on Spotify and other similar streaming resources.
Moist was nominated for the Hollywood Music In Media Awards three years in a row, which makes sense considering that he also runs the record label I/O Music, and creates ambient music under the name Numb. In 2013, David Elfström Lilja also received his hometown's culture prize for significant contributions to music and cultural life.
The new Lavine LP includes 10 tracks with vocals by Maria Marcus, a Swedish multi-platinum songwriter and music producer currently based in Palma, Spain. Together the two sound like a potent pop-pleasure-filled cocktail of Delerium, Royksopp, Robyn, and Onuka, who stole the show at least year's Eurovision Finale. One listen to the album is not enough either. While "Firefly" is addictive and glows brightly in terms of amount of airplay, other brilliant standout tracks from the album include "Berlin", "Words", "Firefly", "Stars", "Worlds Collide (Mix)", and "Traces". And this music only grows more entrancing with each listen.
Lavine is Moist's second album, issued six years after his debut LP Temporary Arrangements. That initial offering was an ambitious achievement, featuring 17 songs with 11 different vocalists. Its first single "Far Beyond The Endless" featured on the Blank & Jones Collection Chilltronica #2, which shot to #1 on the electronic chart in Germany.
"This new album Lavine emerged from many years of mental illness since finishing the last album. So the release of this album somewhat marks a new phase in life for me. Many of the songs were made in a very dark place, even if the music itself doesn't sound so dark," says David Elfström Lilja.
"The song "She" is about my sister Elena, who died four years ago. This album is more coherent than the first one, which has 17 songs and many different guest singers. That's also one of the reasons I just worked with Maria Marcus on this record. Yes, and the fact that she is also amazing in every way."
The tracks on this album were primarily written by Lilja and Marcus, well known for her K-pop compositions, including songs for Namie Amuro, Shinee, Girls Generation, T-Pain, and Afrojack. She wrote and produced three of the tracks on Namie Amuro's last album, which sold one million copies in the first week it was released.
Other co-writers on this album include Tania Doko (from Australia's Bachelor Gir*l, known for their '98 super-hit "Buses and Trains") and award-winning Faroe Islands artist *Brandur Enni.
"I wanna make music that you can listen to and enjoy and also have in the background as ambient music when you have a deep conversation with your best friend," says Lilja.
I/O Music is an independent Swedish record label founded in 2010, giving great electronic music a platform to be heard and giving people the opportunity to hear it. Releases span from ambient to techno, and from experimental to downbeat, among many electronic genres.
As of November 30th, the Lavine LP will be available everywhere. It can already be ordered via I/O Music's website – digitally and physically on CD and on cassette. It is also now available across music stores and streaming platforms such as iTunes and Spotify https://open.spotify.com/album/5dde7e140Ca3S8JQSWLHUt .
CREDITS
Music performed, written and arranged by David Elfström Lilja
Vocals by Maria Marcus
Lyrics by David Elfström Lilja and Maria Marcus
Recorded, produced and mixed by David Elfström Lilja and Marcus Losbjer
Vocals recorded by Maria Marcus at Palma Music Studios
Mastered by Hoffe Stannow at Cosmos Mastering
All artist photos by Dan Wahlbeck
Cover artwork, layout, design and website by David Elfström Lilja
TRACK LIST
01 Saga (1:55)
02 Traces (3:35)
03 Stars (3:33)
04 Firefly (3:31)
05 Words (4:38)
06 Berlin (4:18)
07 Cold (3:56)
08 Worlds Collide (mix) (3:44)
09 She (5:08)
10 No One Knows (3:23)
You can also enjoy several other offerings off the album – "Traces" and "Worlds Collide" were earlier released as singles:
Keep up with Moist
Website
Facebook
Twitter
SoundCloud
Instagram
YouTube
iTunes
Spotify
comments powered by