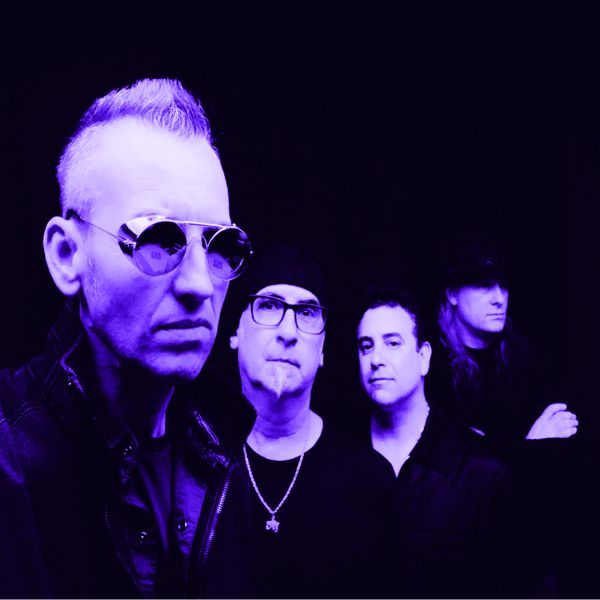 15 September 2020
The Wake – Photo Credit: Gish Blaylox – Blaylox Arts
Hailing from Columbus, OH and now residing in the annals of post-punk and Goth rock history, four-piece The Wake present their new single 'Hammer Hall' – a loud and coldly convincing introduction to their forthcoming album Perfumes and Fripperies. It's been roughly 25 years since the band released their previous record Nine Ways via Cleopatra Records.
A solid part of the underground music scene in the early- to mid-'90s, The Wake rose to fame as part of the "second wave" of Goth. They toured extensively with peers such as Skinny Puppy and Nine Inch Nails, and also appeared on many well-received compilations.
The track we are premiering today – 'Hammer Hall' – is the album's lead track. The Wake's new output is stunning – a vivid cold beauty in the style of Clan of Xymox or Sisters of Mercy. They are truly their American cousins, born of the same dark mother. Fans of such artists as Bauhaus, Fields of the Nephilim, Psychedelic Furs and The Mission UK have cause for celebration as The Wake resurface after their sizeable hiatus.
The Wake are Troy Payne, Rich Witherspoon, James Tramel, and Daniel C. From its inception in the mid-'80s., The Wake has been an outlier – an unlikely band, from an unlikely place, making unlikely music, and having fantastic success…relatively speaking. When singer Troy Payne and guitarist Rich Witherspoon founded the band, they couldn't have imagined that what they manifested from a shared sense of "cool" would not only endure, but flourish more than three decades later.
In 1993, The Wake released their debut album Masked via Cleopatra Records, considered to be a landmark recording to this day. While touring extensively, the band had other successful releases like the AP Dance charting single 'Christine', an EP of songs remixed by Rosetta Stone, and their third release Nine Ways.
Metaphorically, Perfumes and Fripperies is the space between the weight of darkness and the hazy, sheen of dreams. Here – dark, uneasy truths are revealed, fate and resolution come to terms, whispering dreams and memories dance together in the moon light… there will be no sleep tonight.
"As our first full-length release in nearly 25 years, we wanted to make an unforgettable album that would represent The Wake of 2020 while also honoring our legacy. Inspiration for the ten tracks was drawn from many disparate sources and circumstances, written and recorded over a long stretch of time," says Troy Payne.
"This album is a link to our past, a totem of the present, and a glimpse of the future. There's never a question of who you're listening to, but there is a fresh, modern feel to all the things that you liked about us in the first place. I think this record will appeal to diehard Wake fans, as well as dark music lovers that have never heard us before."
Recorded over many months in different locations and various circumstances in the band's native Ohio, the album comes together to speak with one voice. This long-play was mixed by Matt Hagberg at VMS in Columbus, OH and mastered by Emily Lazar at The Lodge in NYC.
As of October 30, Perfumes and Fripperies will be available digitally everywhere, including Spotify and Apple Music. The album can already be pre-ordered directly from the band via Bandcamp
CREDITS
Written and recorded by The Wake
Recorded at Blaylox Studios, Suma Recording Studio, and VMS
Mixing and production by The Wake and Matt Hagberg at VMS
Final mix by Matt Hagberg at VMS
Mastering by Emily Lazar at The Lodge NYC, assisted by Chris Allgood
Design by Blaylox Arts
Cover art adapted from Fiona Hall's 'Vaporized'
For retrospective sake, also check out two earlier singles released by the band some time ago:
The Wake
Website
Facebook
Bandcamp
Twitter
Instagram
YouTube
Reverb Nation
Spotify
Apple Music