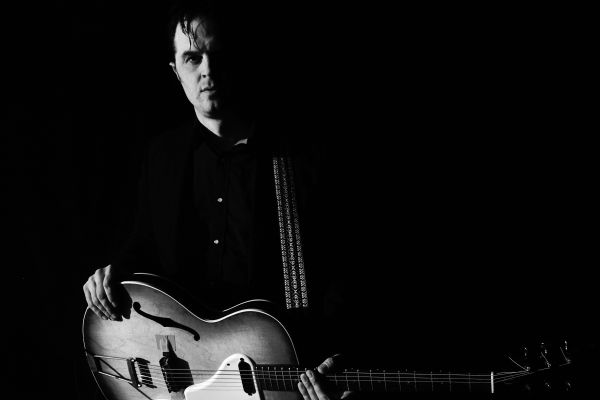 24 September 2020
Beau Jennings & The Tigers – Photo Credit: Chase Kerby
Beau Jennings is a musician, filmmaker, and former architect currently based in Oklahoma. Originally the front man and songwriter for the indie-rock/Americana band Cheyenne, he toured the U.S. while calling both Brooklyn and Austin home.
In 2015 he released a documentary film and accompanying soundtrack album entitled The Verdigris: In Search of Will Rogers, retracing Will Rogers' life journey from coast to coast and retelling his story through original songs. That same year the album was named "#1 Okie Album of 2015" by Literati Press, and in 2016 the film premiered on public television stations across the United States through American Public Television, eventually earning a nomination for a Heartland Emmy.
In 2016 Jennings and his band The Tigers released the single 'Back In Town," which was listed as one of the best songs of the year by NPR Music. Beau Jennings & The Tigers' debut album, The Thunderbird, landed on Big Takeover's own Jack Rabid's 'Best Of' year-end list for 2019.
Jennings (guitar, vocals), along with his The Tigers bandmates Chase Kerby (guitar, keyboards, background vocals), Michael Trepagnier (bass), Dustin Ragland (drums), and John McCall (keyboards) are now releasing their next single, "Hard To Party."
This song was written in collaboration with Alex Coleman who was the guitar player for the band Horse Thief (Bella Union Records). The song originally appeared on a charity compilation organized by Coleman called The Oklahoma Quarantine Demos, featuring many other Oklahoma artists.
Coleman wrote and arranged the song and played guitar and then sent it to Jennings, who wrote the lyrics and melody. Finally each member of The Tigers wrote and recorded their respective parts to create the final track. The track was recorded and mixed by Trepagnier, who also records and mixes the band's albums.
Big Takeover is pleased to host the premiere of the engaging "Hard to Party,"that slowly builds up from a laid-back rumination to a full-on Americana-tinged indie rock track. The pace is set from the start by a determinedly chugging guitar line, low bass underpinning, and Jennings' casually crestfallen vocals.
As the song progresses, however, its intensity rises with more forceful rock guitar lines and keyboard organ notes and other sonics. The at times drolly acerbic lyrics center on center Jennings trying to write a song about the relationship he's in. Every time he tries to focus on the page, however, he ends up making a margarita instead…
Jennings explains the genesis of "Hard to Party," relating, "I usually start songs on my own on acoustic guitar, but I love to get a finished piece of music with the emotional landscape already laid out. I sometimes struggle with writing lyrics to music someone else has created first, but I credit Alex for knowing what our band does and getting us something to work with that fits into our wheelhouse, but that also is something we wouldn't normally do."
"Lyrically I kinda felt like I was riding a wave – I'd been reading different things on writers block, and a common theme that kept coming up is to write down one true thing, and then write down another, then another, until you have a song of true statements, which is pretty much what happened here. Kind of a way to back yourself into a song meaning, as opposed to sitting down with an end point in mind."
"I'd had that song title in my back pocket for several years. I tried it once as a country song, and that didn't work. I tried it in a Nashville-style co-write session and that got sideways pretty quickly too. Finishing it remotely during a global pandemic feels appropriate. I guess it's always hard to party, but never more so than now…"
Facebook
Twitter
Instagram
Bandcamp