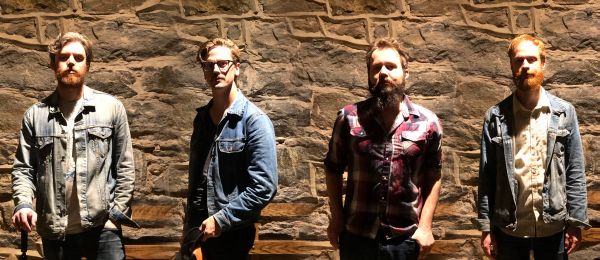 21 October 2021
From L-R: Erik Saxvik, Daniel Kwiatkowski, David Paarlberg, Rob Morrison of The Hollows – Photo Credit: The Hollows
When you think of the music produced in Brooklyn, NY, string bands don't automatically come to mind, but The Hollows have helped to change the thinking what Brooklyn music could be. And their newest single, "Haunted House," has the power to reintroduce a new generation to American roots music.
The Hollows formed in 2009, featuring the talents of Jeffrey Kurtze (bass), Daniel Kwiatkowski (banjo, guitar), Rob Morrison (mandolin, guitar, slide guitar), David Paarlberg (keyboards, guitar, trumpet, accordion), and Erik Saxvik (guitar, keyboards). Later, they added drummer Justin Aaronson to their lineup; rounding out the sound and adding that rhythmic punch. Known for their incredible live shows and huge harmonies, the band has explored various reincarnations of the Americana genre from desert rock to bluegrass. And now, with the addition of Ian Bakerman (bass), they are back with a new single.
The main character in "Haunted House" is a condemned building. Angry about being torn down, the building decides to haunt the town. Rob Morrison remembers the factory town of his youth, and how they would condemn and tear down the buildings that had once been so productive. Morrison says, "The song isn't necessarily about [a] particular factory; it could be any home or structure that's been forgotten. In my mind, the spirit inhabiting this house/factory/building is resentful of being cast aside, and has resolved to haunt the town that betrayed it." If Springsteen's The River is about the people who got laid off from those factories, "Haunted House" offers a different perspective. You can almost see the landscape as you listen to The Hollows pluck their stringed instruments.
"Haunted House" is part of an upcoming EP called Lonesome Ghost, the band's first release in nearly five years. Partnering with producer James Frazee (Patti Smith, Sharon Van Etten, My Morning Jacket), the band sought to make a more textural record. And you can hear that in the mix on "Haunted House." Reminiscent of The Band or Creedence Clearwater Revival, there's a layer of textural glue beneath the gentle strumming of the mandolin and acoustic guitar. Big cymbal swells, rich organ chords, and layers upon layers of harmonies add a richness to the track. The Hollows know how to use subtlety in their music – maybe that's something they've picked up over years of experience.
Perfect for these crisp October evenings, "Haunted House" offers us a powerful image of a building on the brink of destruction. People often say "if these walls could talk," and The Hollows have decided to take that idea and run with it. Check out the single below, and stick around for an exclusive interview with the band!
Photo Credit – Britannie Bond
What was it like working with James Frazee? How did the recording process for the upcoming EP differ from previous recording experiences?
"We met James through John Siket, who produced our last record, Between the Water and the Wonder Wheel. John brought him in to engineer, and we hit it off immediately. We've stayed tight ever since: James produced another record by our buddy Phil Pickens, which Dave and Dan were both on; he did Rob's recent release with The Booklights; he's mixed some of Dan's solo stuff; Justin's done some session work with him (Wind & the Why), and he and Dave have worked together on a couple of other projects as well (J. Breckenridge; Richard Dev Greene). Because his ear is so good, James often hears ideas we never would've thought of, whether that's in the form of an overdubbed instrument or vocal, or a structural modification to the song. He's an impressive ideasmith, but at the same time nothing is sacred to him, so it's a very easy vibe to get along with."
"Haunted House" is about factory towns in Ohio, and the buildings that take on the memory of shutdowns and layoffs. Why do you think abandoned buildings are such a mainstay of American folklore?
""Westward expansion" left its mark all over America, uprooting and inflicting harm on indigenous peoples. It also left ghostly gravestones of forgotten industries in its wake. Call it what you will— energy, power, magic— but there's something spiritual about those old ruins. They're both a way to connect with our past and also a very tangible reminder of the passage of time. Our nation's history is rife with tragedy, but the wheels of capitalism keep turning, encouraging us to look away. The idea that a factory that once provided so much to a community, only to eventually be discarded and condemned as time marches onward, felt like a strong launching off point for a song that touches on these themes. In a way, the building in "Haunted House" could be considered a stand-in for a human being, or a group of people, that society has abandoned. Sadly, this is a very American theme."
You all have been playing together a long time. What keeps music interesting, engaging, and exciting for you?
"Storytelling is a never ending pursuit— not only are there always new stories to tell, but the more work you put into the craft, even more ways to tell those stories begin to emerge. We try to keep our minds curious and our hearts open. We're also all involved in a variety of other projects outside The Hollows— music, theatre, carpentry— which helps to keep the creative energy fresh."
When can we expect the EP to be released?
"Soon— Lonesome Ghost will be available November 19th!"
What's next after the EP for The Hollows? What can we expect to see from the band in 2022?
"For the time being, we're savoring the release of "Haunted House" and the upcoming release of Lonesome Ghost. We started tracking these songs back in 2019, so it's a wonderful feeling to finally share them with the world. Who knows what the future holds!"
Bandcamp
Spotify
Instagram
Facebook
Twitter