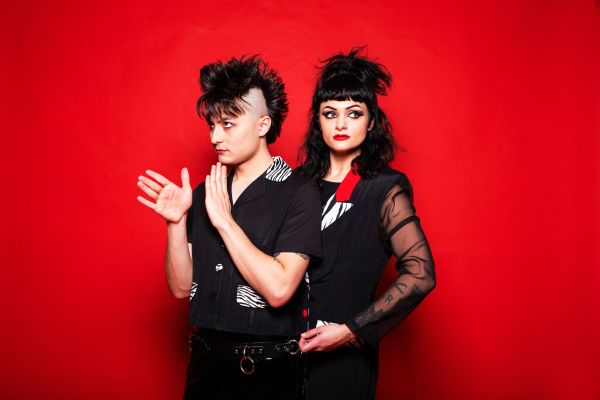 8 August 2019
Wingtips – Photo Credit: Alexus McLane
Chicago-based synths and electronics-driven darkwave duo Wingtips are taking flight with a sound that recalls the beginnings of 1980s synth/electro-pop noir.
Their debut full-length, Exposure Therapy, is slated for launch on August 23rd via Artoffact Records. The LP was engineered, co-produced, and mastered by Brian Fox at Altered States Studio in Chicago and is the follow-up to 2016's Greyarea EP.
Vincent Segretario (lead vocals, guitars, electronics) and Hannah Avalon (backing vocals, guitars, electronics) revel in (dis)passionate shadows and light, yearning and confessing through 10 tracks of Motorik to reflective torment and bliss.
"Here and Now", which The Big Takeover has the pleasure of premiering, shows off the contemplative and warm facet of the act's music.
Staking out a piece of The Cure's swooningly romantic territory, Wingtips saturate "Here and Now" with washes of diffusive synths, sparkling electro-notes, softly reverberating guitar chime, and echoed drum beats.
Segretario's vocal tone is bittersweetly airy as he reminisces about a found – and lost love, and rues a life that turns out differently than previously imagined…
He reveals details about the lyrics' meaning, stating, "This was the first lyrical work I did on the album. When I began writing, I thought about where I had experienced emotional ambivalence in my life, coupled with immense regret which followed as a consequence. Sometimes when you're not all-in on something, or someone, you can experience tremendous loss as a result of your own uncertainty and hesitation. The song is about being "too late" to realizing your fault, the value of what could have been, and that you were wrong."
Link to Pre-Order, Pre-Add, Pre-Save Exposure Therapy
Wingtips will embark on an extensive North American tour that kicks off at the end of August, including slots at Cold Waves VIII in Chicago, Absolution Festival in Tampa, and much more.
TOUR DATES:
Aug 27 – Omaha, NE at Reverb Lounge $
Aug 28 – Denver, CO at Rhinoceropolis
Aug 30 – Boise, ID at The Shredder
Aug 31 – Seattle, WA at Belltown Yacht Club
Sep 4 – Vancouver, BC at The Astoria
Sep 5 – Portland, OR at The Lovecraft
Sep 6 – Oakland, CA at The Uptown %
Sep 8 – San Diego, CA at The Whistle Stop
Sep 10 – Los Angeles, CA at The Moroccan
Sep 11 – Phoenix, AZ at Lunchbox
Sep 12 – El Paso, TX at Rockhouse
Sep 13 – San Antonio, TX at The Amp Room &
Sep 14 – Austin, TX at Empire &
Sep 15 – Dallas, TX at Three Links
Sep 17 – Tulsa, OK at The Starlite
Sep 18 – Kansas City, MO at miniBar
Sep 20 – Chicago, IL at Cold Waves Festival
Sep 26 – Pittsburgh, PA at Spirit
Sep 28 – Brooklyn, NY at Brooklyn Bazaar +
Sep 30 – Richmond, VA at Banditos +
Oct 2 – Raleigh, NC at The Wicked Witch +
Oct 5 – Tampa, FL at Absolution Festival +
Oct 10 – Nashville, TN at Drkmttr
Oct 11 – Louisville, KY at Art Sanctuary
Oct 16 – Detroit, MI at UFO Factory
Oct 17 – Toronto, ON at The Boat
Oct 19 – Newark, NJ at QXT's
= w/ Silent Servant, Fee Lion
$ = w/ Plack Blague DJ set
% = w/ Ash Code
& = w/ Twin Tribes
+ = w/ Korine
Website
Facebook
Instagram
Bandcamp
Spotify