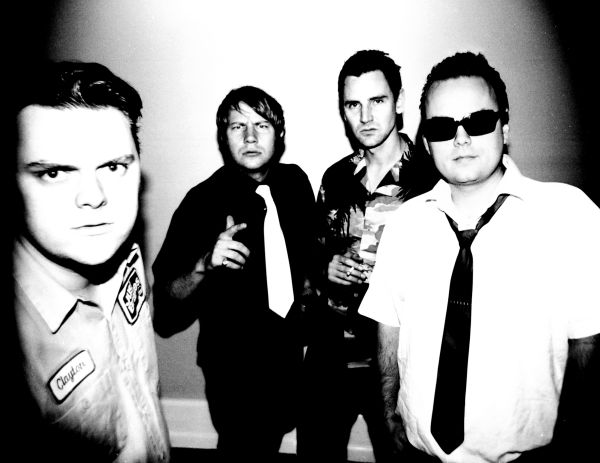 25 May 2021
The Tremolo Beer Gut – Photo Credit: Jessica Tolf Vulpius
Those wild and woolly Scandinavians have done it again! The mighty "TBG" as they are known to their loyal fans, or The Tremolo Beer Gut for novices, are returning with a new album, You Can't Handle… The Tremolo Beer Gut, on June 18th.
The LP contains 16 tracks of instrumental surf, electrifried twang, and rock 'n' roll bang that are crammed full of tasty reverb-drenched hooks, furiously driving fuzz, and surfin' snare are more than enough to please even the most discerning of Dick Dale, Davie Allan, and Duane Eddy fans.
Core TBG members Yebo (drums) and The Great Nalna (guitar), Jengo (guitar), and Per Sunding (bass) are back, along with contributions from original band member Sune Rose Wagner (one-half of The Raveonettes).
The upcoming full length also features a slew of notable guests including members of The Jon Spencer Blues Explosion, Heavy Trash, Pussy Galore, Boss Hog, The Sonics, The Boss Martians, The Huntington Cads, and The Courettes.
The music draws inspiration from garage rock, the surfy side of the Pixies, indie rock, and spaghetti westerns, and evokes panoramic-vistas film composers such as John Barry, Henry Mancini, Lalo Schifrin, and Ennio Morricone, as well as the music and sounds of Phil Spector, Brian Wilson, and Joe Meek.
You Can't Handle… The Tremolo Beer Gut marks the debut collaboration between legendary surf and garage rock label MuSick Recordings (LA, CA), No-Count Records (Seattle, WA – recently founded by The Boss Martians' own Foster Brothers), and ultra-hip Crunchy Frog (TBG's HQ of Copenhagen, DK – notably the label that debuted bands like The Raveonettes and PowerSolo).
Big Takeover is delighted to host the premiere of the seductively slinky number "Hey Hello" from the album. The single will be officially available for purchase on June 4th, but you can hear it here in all its delectably cheeky glory.
NYC-based marrieds and renowned musicians Jon Spencer (The Jon Spencer Blues Explosion, Boss Hog, Pussy Galore, Heavy Trash, The Honeymoon Killers) and Cristina Martinez (Boss Hog, Pussy Galore, The Honeymoon Killers) get top billing on vocals, along with Jacob Gram Alsing and Mikkel Borg Bjergsø on instrumentation.
Charged with an undeniable magnetic attraction, a flirty Spencer and Martinez flit through the simmering surf/spaghetti western hybrid track, exchanging mainly the words, "Hey" and "Hello"_. The lyrics may be spare, but they're laden with desirous innuendo and the intent of good times ahead, once they get past the introductions.
Yebo gives some insight about the song, explaining ""Hey Hello" is a new tune graced with the alluring sexyfied vocal stylings of Jon Spencer and Cristina Martinez. The couple – also known as Mr. and Mrs. Punk – have been friends of The Tremolo Beer Gut for decades and both The Great Nalna [and I] also served as side men in Spencer's band Heavy Trash."
"The tune is classic TBG surf 'n' western. Big sweeping guitar melody in the verse and more tight pumping energy in the chorus where Spencer and Martinez ask the age-old questions that generations of flirting lovers have been posing. Questions filled with innuendo that are in essence also answers. Hey? Hello? Yes: Hey! Hello! Let's go. Your place or mine? How about right now, right here? Enough said. It's all in the delivery and [Spencer and Martinez] serve it up niiiice."
Pre-Order You Can't Handle… The Tremolo Beer Gut at Musick Recordings' Bandcamp
Facebook
Instagram
Bandcamp
Spotify
MuSick Recordings Bandcamp
No-Count Records Facebook