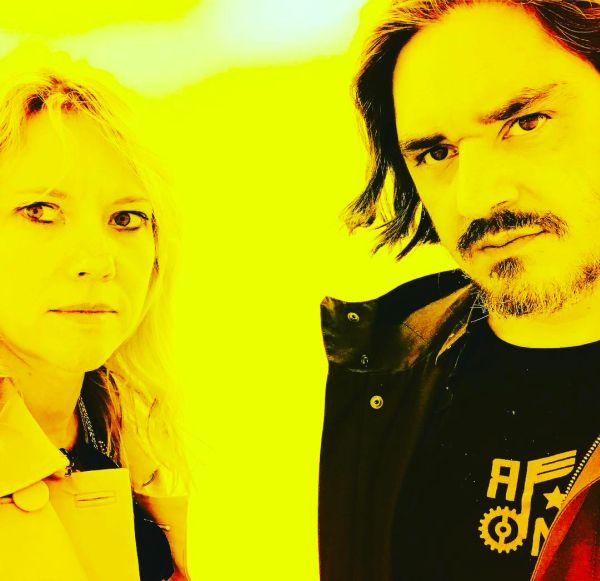 27 August 2020
Lulu Lewis – Photo courtesy of Lulu Lewis
"Hit Your Town" is the latest single from New York-based Lulu Lewis, out August 28th via Ilegalia Records on all platforms.
Drawing on influences ranging from post-punk to New Wave to soul to disco, this track mashes up Georgio Moroder with Nina Hagan to create what the band calls 'Dyscopia' or dystopian disco. It will be a part of their forthcoming second full length LP.
Founded by husband and wife duo Pablo Martin (Tom Tom Club, The Du-Rites) and Dylan Hundley (Metropolitan), Lulu Lewis have established themselves as one of New York's most prolific and versatile underground rock bands over the past few years, whether collaborating with artists like Brendan Canty of Fugazi, Sergio Rotman of Los Fabulosos Cadillacs or sharing the stage with musicians like Lenny Kaye, Shilpa Ray, Jim Jones, and Richard Lloyd. They are a blast live. The band was the subject of a short documentary from Condé Nast, while their debut LP, Genuine Psychic, earned them extensive praise.
Big Takeover is delighted to host the premiere of this lyrically prescient single that delves into catastrophes that can hit a town, city, or any type of locale. The stark and on-point lyrics are bolstered by the dark bass line press, slightly off-kilter guitar and synths shine that fades into occasionally disorienting warps, flitting percussion, urgent pump of the disco beat that goes round 'n' round, and Hundley's wickedly foreboding vocals.
About "Hit Your Town," Pablo Martin says, "This track was written during the riots in Chile and after the last earthquake in Japan somewhere during November 2019 and January 2020. We really had no idea to what extent in fact the disaster was gonna hit our town…"
Lulu Lewis balances their sharp insight and dark poeticism with an air of playfulness across their genre-bending catalog. Lulu Lewis is an inventive and pivotal band creating a distinctly unique sound. Haunting Goth-rock tracks live alongside tongue-in-cheek, synth-driven New Wave, all connected by a sonic world of incinerating guitars, cutting rhythm section and strings! They acknowledge the light and dark duality of the universe without taking itself too seriously.
Track Credits -
Dylan Hundley: Vocals, Design
Pablo Martin: Guitar, Bass, Keyboards
Julius Solo: Drums, Timbales
Daniel Andrada: Tabla
Leroy Rotman: Additional Mastering
Take a listen to Lulu Lewis' album Genuine Psychic
Embed – Embed –