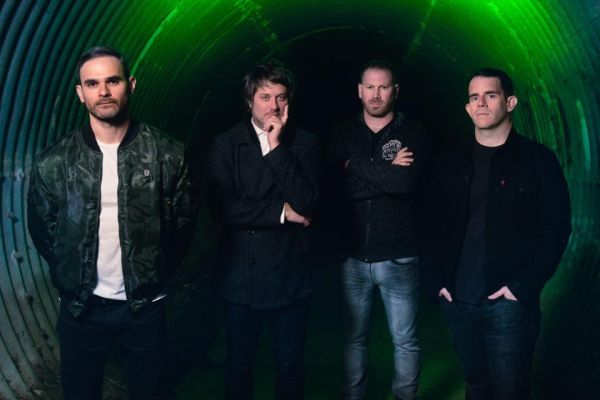 16 August 2019
Fake Figures – Photo Credit: Brad Alexander
Fake Figures hails from Southern California and features members of notable bands Atreyu, Hotwire, Scars of Tomorrow, and Nation's Afire. Started by Travis Miguel of Atreyu as a side project, Fake Figures has become a full-fledged outfit that includes Miguel on guitar, former Hotwire vocalist Rus Martin, Bob Bradley on bass, and Steve Ludwig on drums.
The band is re-releasing a newly recorded and remixed version of rager "Hole In The Sky" and also unveiling a re-edited music video for it. The Big Takeover is stoked to host the premiere of the exhilarating track which is both intensely relentless and euphorically soaring.
"Hole In The Sky" is available now and has been covered in its original form by media including Loudwire, AltPress, Spotify (Rock This), BBC1 Radio, 92.9 KJEE, Rebel Noise, and many others.
Fake Figures formed In 2011 with the common interest of making music that blends elements of metal, alternative, and punk while keeping an undertone of music from the late '90s.
In December of 2011 the band released their first EP, Hail The Sycophants, which received critical praise and garnered key press from sources including MTV Buzzworthy, Revolver, Alternative Press, Punknews, and more.
In 2013 the band entered the studio with Saosin guitarist and producer Beau Burchell to carefully craft their new EP They Must Be Destroyed. This marks the band's studio debut of drummer Ludwig (Nations Afire) and writing contribution from guitarist-at-the-time Heather Baker. They Must Be Destroyed is a slight departure from the experimental sound the first EP; creating the punk/hardcore/alternative tracks took nearly 6 months for the band to pen, record, and mix.
For 2019 Fake Figures has signed to War Against Records (Pressure Cracks Rot, more) and is now in the studio tracking new music with producer Kris Comeaux (Assuming We Survive) with the intention of releasing more potent tracks later this year.
Check out the suspenseful video as well:
TOUR DATES:
8/16 – w/ OneSideZero at Slidebar in Fullerton, CA
War Against Records Website
Fake Figures Facebook