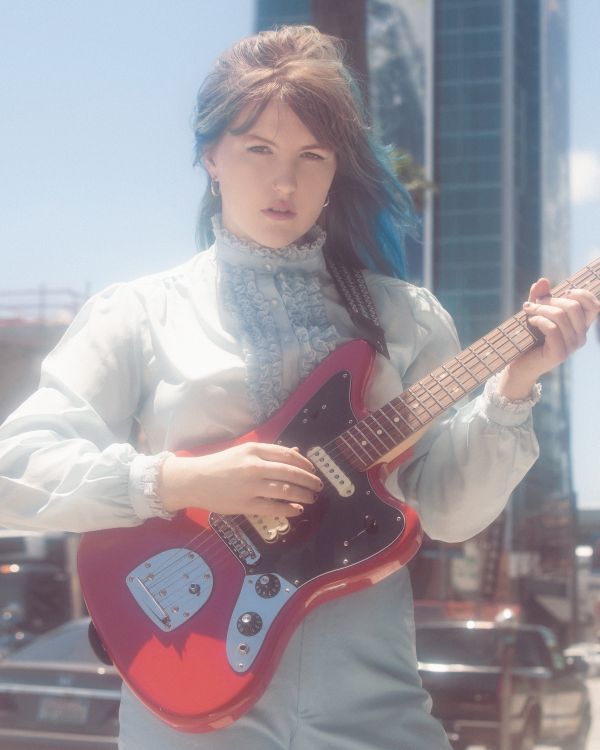 13 June 2019
Caroline Kingsbury – Photo courtesy of Caroline Kingsbury
Los Angeles-located singer-songwriter Caroline Kingsbury is a rising pop/rock artist who pens and crafts her music alongside her cat named Billy. Unpretentious and focused on creating her music, Kingsbury adds gritty rock and shining electro, to her snappy and crackling pop.
Kingsbury recently supported Aurora, NoMBe, and Miya Follick, and will be performing upcoming shows supporting Chai, as well as going on a West Coast tour with Alex Lahey.
In the meantime, Kingbury is dropping her latest on-fire single, the scintillating "In My Brain", and The Big Takeover is stoked to host its premiere here today. Her previous singles have been featured on Spotify playlists and blogs like Pop Matters, The 405, and Buzzbands LA have been hip to her sound.
Kingsbury has been making cool connections in the entertainment industry and a song of her was featured in Netflix's Chilling Adventures of Sabrina. She also wrote and recorded theme for Chelsea Handler's new podcast Life Will Be the Death of Me.
"In My Brain" is a dizzying delight filled with sparkling synths percolation, running bass line, a hard-smacked drum beat, and Kingsbury's rich and expressive vocals. Her lyrics are direct, yet bittersweet, describing what's going on in her mind and how she escapes from pain and uncertainty by "building a fortress" in her brain. There is only pleasure to be found, however, for the listener on this captivating number.
Kingsbury delves into the details of the meaning behind "In My Brain", revealing, "This is such a strange time to be young. Progress alongside regression can make you feel like there's only two choices for the future; hope or fear. There's no in between. I wrote "In My Brain" as an anthem for the uneasiness my generation feels about our past, present, and future. "Don't want to live in the present, don't want to go back in time, don't want to be here forever, middle finger to my future life." The culminating chorus line "middle finger to my future life" is the dramatic reaction to feeling like our future is out of control."
"Writing this deep in 2018, this sentiment was at its peak. My brain was "building a fortress" because it was just too much. I'm in my early 20's and even now a year later the general sentiment seems like a half-joking half-serious we are "fucked." But, I think making and consuming music is the most hopeful thing we can do. It forces us to feel despite everything trying to get us not to."
Website
Facebook
Twitter
Instagram
SoundCloud