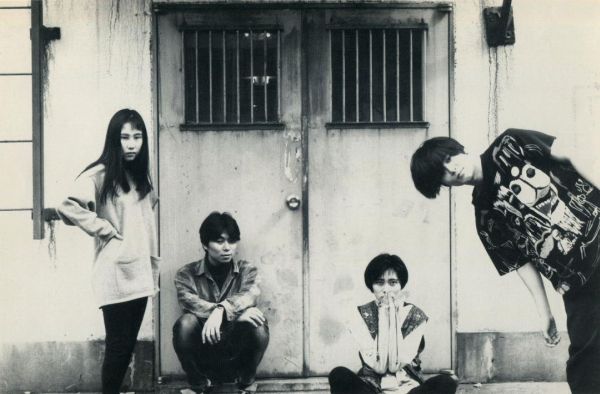 2 April 2021
Melt-Banana – Photo Credit: Yako
Tokyo's noise/experimental music trailblazers Melt-Banana and Space Streakings have unearthed rare single and comic sets via SKiN GRAFT Records and Big Takeover is deeply pleased to host the premieres of the wildly striking digital singles today, with a page or two from the comic of each track.
From genre-defying to genre-defining, over the last 30 years SKiN GRAFT Records has curated a collection of music that would seem at home nowhere else.
SKiN GRAFT initially sprang to life in 1986 as a punk-infused comix zine, but with a move to Chicago in 1991, it reinvented itself as a quirky, aesthetically driven record label specializing in noisy, no wave music.
SKiN GRAFT Records first made its mark with a collection of 7" singles packed inside comic book sleeves that defined its irreverent, multi-disciplinary approach. Last year the label began reissuing these formerly "analog only," out-of-print singles and comics in revamped digital editions at Bandcamp.
Recent months have seen a steady stream of archival releases from uncategorizable acts ranging from the "Jim O'Rourke / Cheer-Accident mash-up" Brise-Glace, to Boredoms spin-off UFO or Die, to Chicago's "rock re-defining" U.S. Maple. Other reissues include a series of remastered tributes to AC/DC from the likes of Shellac, Yowie, Will Oldham (as Palace Contribution), and Zeni Geva.
SKiN GRAFT built a reputation for its work with Japanese underground acts such as Koenjihyakkei and Ruins, but in its early days the label made waves with a pair of bands from Tokyo that sweat out wholly individual, super-adrenalized collisions of noise, pop, and rock.
It's testament to their pioneering spirit that with a quarter century laid down behind them, Japan's Melt-Banana and Space Streakings still don't sound much like anything else on the planet.
MELT-BANANA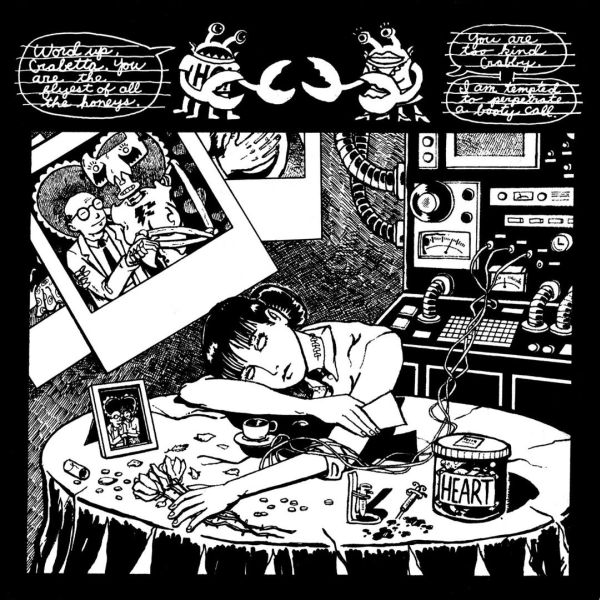 Melt-Banana Comicpg08 by Mark Fischer
In 1991, Yasuko Onuki (aka Yako) started the band Mizu and enlisted guitarist Ichiro Agata to join the band. By November of 1992, bassist Rika Mm' and drummer Sudoh Toshiaki had joined up, and the newly energized Mizu changed their name to Melt-Banana.
Zeni Geva's K.K. Null sent SKiN GRAFT Records a copy of Mizu's demo tape and the band recorded today's single shortly after laying down their debut album. On "It's In The Pillcase," frontwoman Yasuko O.'s aggravated pep squad proclamations and Agata's cerebral gnashing slide guitar vie for supremacy across a neck-snapping rhythmic frenzy that is so brief, ridiculous, and precise, that cracking a smile is pretty much irresistible.
The three-song single was engineered by Null who also provided inspiration for one of the comics inside… SKiN GRAFT's Mark Fischer says, "Though we had corresponded via fax for quite some time, I met Melt-Banana in person when they came to Chicago to record their first album over at Steve Albini's house. This was for Null's Nux Organization label. The band stayed at my place and to give you an idea of how long ago this was, we all watched the O.J. Simpson Bronco chase live on TV between mixing sessions."
"Null was also recording an LP for his other band Yona-Kit at Steve's – and Yako jumped in to provide additional vocals on the opening track "Franken-bitch." Null's lyrics were very funny and over-the top but when Jim O'Rourke added his guitar parts to the song, it suddenly took on an entirely different tone, and became more plaintive and reflexive. When it came time to draw something up for the Melt-Banana comic, that song was one of the inspirations."
Yako hand-wrote the three songs' lyrics across two of the comic book pages. "All of the lyrics are in English. When I started the band, I was singing in Japanese, but I thought English would fit my vocal style more according to pronunciation or sounds, so I started singing in English. I usually don't decide on a certain theme when I write lyrics… I just write what I feel and think and see around me." Yako comments.
Melt-Banana followed up their single with the album Scratch or Stitch, which brought the band wider recognition. Melt-Banana later formed their own record label, A-Zap, and after well over a thousand shows as a four-piece, they considered breaking up in 2012. But it was an invitation to perform at the ATP festival in the UK from their old recording engineer Steve Albini's band Shellac that encouraged Yako and Agata to carry on as a two-piece. Melt-Banana are still blowing minds to this day.
SPACE STREAKINGS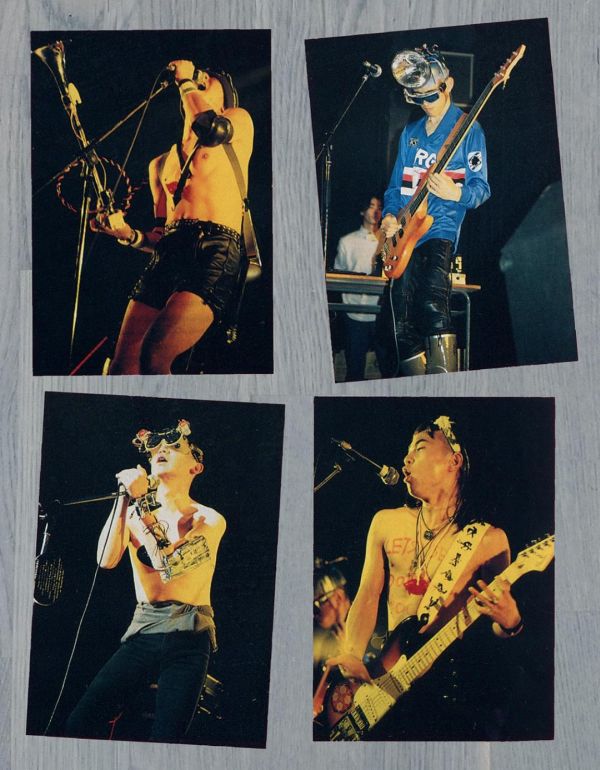 Space Streakings – live – Photo Credit: Springman
An entirely different, though no less confounding kind of racket was made by fellow statesmen Space Streakings, who melded grindcore, jazz-funk-turntablist industrial music, and Japanoise glitch-hop into something no one had-ever heard before.
On Space Streakings' origins, Ikuo Shimizu (aka Captain Insect) says, "The band was formed in January of 1990. At that time, it was a trio of me, Stomach, and another guitarist who went by the name of Kashikari Rental Rocket. He can be heard on our early demos, before we recorded an album."
These demos were recently included as bonus tracks on the band's debut album First Love. Condor and Bazooka joined the following year and there was a time when Space Streakings were actually a five-member group, but Rental Rocket left soon after. The core lineup of Captain Insect (bass, programming), Kame Bazooka (vocals, alto saxophone), Karate Condor (turntables), and Screaming Stomach (guitar, trumpet) was in place by the end of 1991.
Long rumored to be a quartet of moonlighting Nintendo programmers, Space Streakings actually took a decidedly analog approach to the their music – often building their own instruments – including the gasoline powered "Engine Guitar" which came complete with a chainsaw-style pull cord; and the "Bazooka-Horn" which saw an 18-wheeler semi truck horn attached to an air compressor.
Although Screaming Stomach still came in to provide backing vocals, by the time of 1995's "Taco Beya" single, he had left and Space Streakings began experimenting with new techniques as a trio. Artwork came under the purview of the band's Nobtack Koike (aka Kame Bazooka) who's surreal, sci-fi infused aesthetic perfectly complimented the band's otherworldly, cacophonous sound.
Space Streakings toured the US with Chicago labelmates Mount Shasta and even recorded a "supergroup" LP under the name Shakuhachi Surprise – which was comprised of the complete lineups of Mount Shasta and Space Streakings, again with Steve Albini behind the control deck. When reminiscing about those days, Mount Shasta's John Forbes volunteers, "Space Streakings were gigantic when it came to innovation. They were dystopian house music straight from the Asian Pacific Rim via Area 51."
Shakuhachi Surprise performed live just once as the surprise show closer at Chicago's 1995 Oops indoors Festival. As for Space Streakings themselves, the band ultimately wound down and stopped performing by 1998.
About these digital single and comic sets, SKiN GRAFT's Mark Fischer opines, "Introducing Space Streakings and Melt-Banana to new audiences has been one of the great pleasures of managing this label. They made a deep, deep impression on everyone who came into contact with them… and I'm excited for these early works to reach new sets of eyes and ears."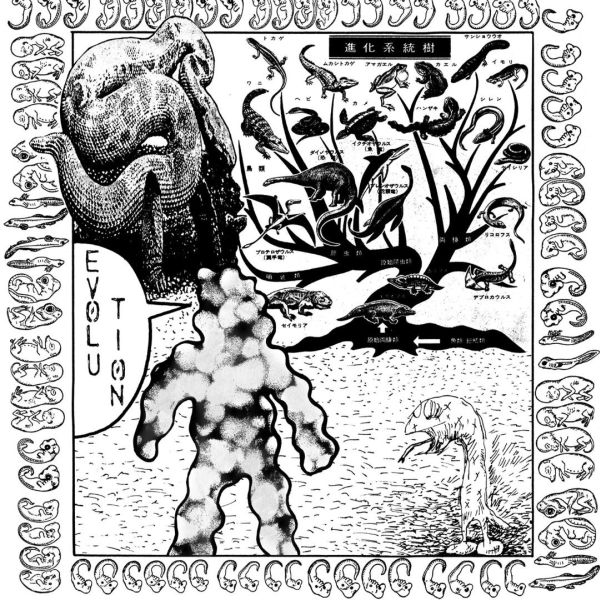 Space Streakings Comic pg06 by Nobtack Koike
MELT-BANANA
"It's In The Pillcase" Digital Single and Comic Set now available at Bandcamp. The digital versions of both comic books have been expanded for their digital premiere.
Originally released as a 7" vinyl record and comic book set in 1995, MELT-BANANA's legendary, tectonic plate-shifting SKiN GRAFT single is now available digitally for the first time! Includes an illustrated 18-page PDF booklet that reproduces the original 7" and comic book set packaging, including lyrics, band photos, and bonus features.
PDF booklet includes cover art by cartoonist Rob Syers, and comics by surrealist Sonny Rosenberg and SKiN GRAFT Editor In Chief Mark Fischer, plus a double-page spread of Yasuko's hand-written lyrics and additional bonus features! Recorded by Zeni Geva's KK.Null.
SPACE STREAKINGS
"Taco Beya" 7" Vinyl Single and Comic Set is now available physically and digitally at Bandcamp and the audio is now available on all digital platforms.
Physical Quantities are Limited. The 7" vinyl release includes a printed comic book sleeve, a remastered digital download of the single and an instantly downloadable PDF of the comic book that has been expanded and remastered for this release. Please note that you must download the files to receive the PDF comic book.
Digital-Only Bonus Features (PDF):
The digital version of the book has been expanded to 33 pages and includes previously unseen band photos, gig flyers ,and some of Nobtack Koike's preliminary sketches for the "Taco Beya" comic book.
Mudslod and the Singles, the new album from John Forbes' post-Mount Shasta band TIJUANA HERCULES will be released May 7th and can be pre-ordered at Bandcamp.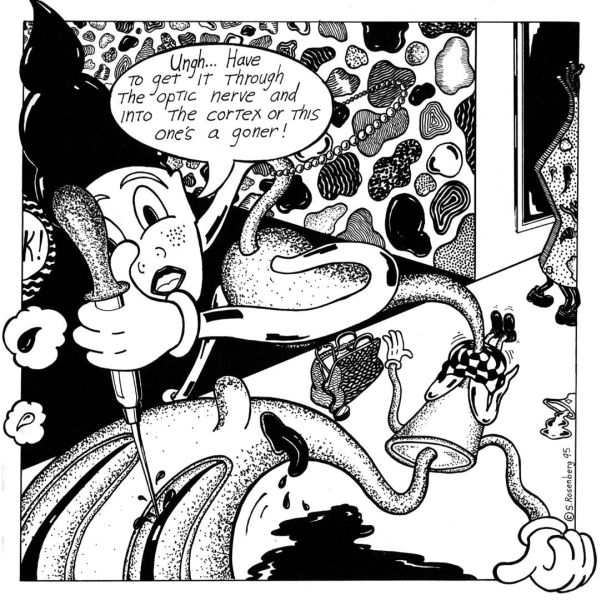 Melt-Banana Comic pg05 by Sonny Rosenberg
SKiN GRAFT Records
Bandcamp
Website