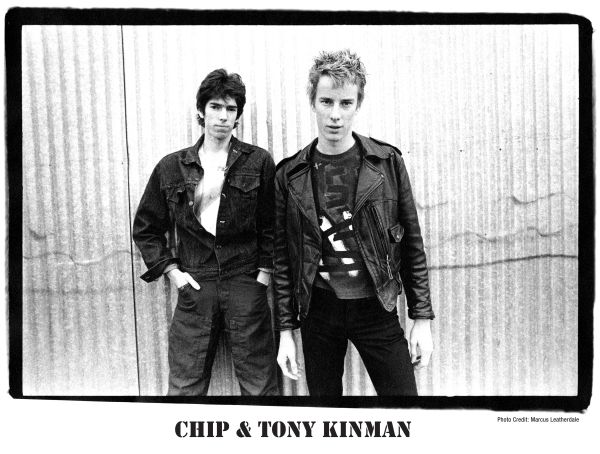 14 May 2019
Chip and Tony Kinman of Blackbird – Photo Credit: Marcus Leatherdale
Omnivore Recordings will be releasing Chip & Tony Kinman: Sounds Like Music, a collection of previously unissued music by influential musicians and brothers Chip and Tony Kinman on June 28th.
The Kinman brothers fronted some of the most important bands of the last quarter of the 20th century – Rank and File, the Dils, Blackbird, and Cowboy Nation. Omnivore Recordings has put together a record that compiles 22 previously unheard tracks, including alternate versions of classic songs, from all four of their bands, plus liner notes from Chip Kinman himself.
After forming the seminal California punk band the Dils in 1977 (and even scoring an appearance in Cheech & Chong's Up in Smoke), the brothers became cowpunk pioneers with their next band, Rank and File (whose early line-up included Alejandro Escovedo). They took a more industrial turn with their next band, Blackbird, and returned to more traditional country with Cowboy Nation.
The recordings on Chip & Tony Kinman: Sounds Like Music were selected by Chip, and taken from the brothers' archives. These restored and remastered tracks trace their journey like no other collection has, or could. Featuring photos, ephemera, and new notes from Chip, the release takes listeners from the DIY aesthetic of L.A. punk to cowboy songs that feel like they've been around forever.
Sadly, Tony passed away in 2018, but Chip & Tony Kinman: Sounds Like Music solidifies the brothers' legacy, adds to their already beloved body of work and is a fitting tribute to the music they made together.
The Big Takeover is honored to host the premiere of Blackbird's shimmering and tuneful take on Tom Waits' (made-famous-by- Bruce-Springsteen) "Jersey Girl". Part nostalgic pop and part gritty rock, the brothers start the song off in low-key mode with the continual simmer of guitar reverb, a wiry brush tick, and subdued thump of drums.
Dark and light vocal tones wind around and twine with each other throughout "Jersey Girl", as Chip and Tony deliver beautiful, ear-catching harmonies. As the track progresses, it opens up with a richer sound that adds picked guitar notes, a grinding guitar line, echoed, metallic percussion, and uplifting, heart-filling vocals.
Chip Kinman kindly took some time to explain the origins of Blackbird's version of "Jersey Girl", revealing, "We were recording the third Blackbird LP when we were asked to do a version of "Jersey Girl" for an upcoming film of the same name. No problem. The song lends itself to our harmony style and it was a blast singing it with Tony, as per usual. The style is not typical for Blackbird;we were out to destroy what went on before. Louder than shit swirling guitars, pounding, relentless drum machine, and Tony's vocals were the order of the day, but we decided to make this version vocal-centered. Luckily we could sing; unluckily they didn't use it for the movie. Hell, I'm not even sure if the movie ever came out! Blackbird was resolutely anti-show biz. No stopping, no talking, no thank you. It was labeled "career suicide" at the time, but as it turns out it wasn't suicide – it was rock and roll. Apologies to David Bowie."
Pre-Order Chip & Tony Kinman: Sounds Like Music