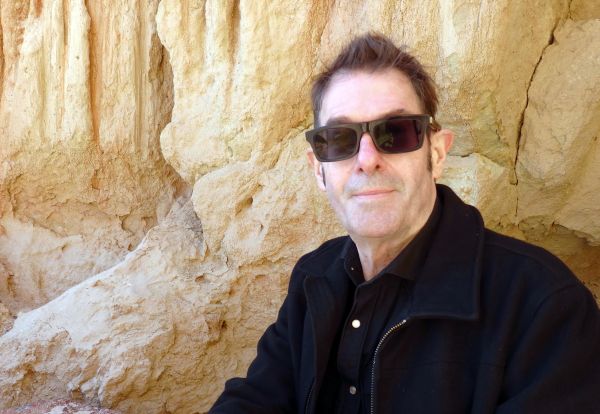 21 February 2019
Russ Tolman – Photo Kim A. Tolman
Russ Tolman is an Americana singer-songwriter and guitarist who is brimming with pleasant revelations, contraventions, and variants. As a musician, he's been on the ground floor of movements. As a card-carrying member of the Paisley Underground, he founded the ultimate '80s twin guitar, drop-dead buzzsaw True West. Legendary guitarist/producer Tom Verlaine twiddled the studio knobs for the band.
Tolman eventually went solo, moving from Northern California to SoCal, and in the mid-'80s he released his first solo album, Totem Poles and Glory Holes and began a massive touring circuit. he would craft two more testimonials to his adopted metropolis, Down In Earthquake Town and Goodbye Joe, blasting off the '90s with an unconcealed kick and verve. These would be the first of four albums done huddling up with producer/engineer Brett Gurewitz (Bad Religion, Epitaph Records).
Ever the wanderer, Tolman ended up moving to various countries in Europe through the '90s and releasing another couple of LPs, before settling in San Francisco for his 6th album release. At the start of 2000 the sonic experimenter dropped an album that again traversed different genre territory.
Tolman took a break soon after and he and his wife Kim located to Los Angeles. The beginning of Tolman's musical comeback kicked in with a single named after the city that was released in 2013. More music began flowing out and in 2016 Tolman's 20-song, 27-year retrospective album, Compass and Map was released.
2018 found Tolman on a sabbatical in Japan, and his time and experiences there stoked his creative fires. He decided to finish off his "love letter to Los Angeles" with his upcoming 8th album, Goodbye El Dorado, which arrives April 19th via Lost with physical distro by City Hall Records and digital distro by The Orchard.
The LP is a plush, colorful new collection of tunes relating true confessions, witty rejoinders, and observations about the human heart, pushed along with crisp style with all the usual musical suspects. Don't call it a comeback, the best is yet to come. That's Russ Tolman's story and he's sticking to it.
The Big Takeover is pleased to host the premiere of a track off the album. "Kid" is an Americana-steeped story-teller that relates the narrative portrait of a California kid's life – from problems with her family to hanging out with her friends. Tolman's gentle, but clear vocals imbue the lyrically stark picture with a soft glow.
The mellifluous acoustic guitar and curling lap steel lines (accompanied by other stringed instruments), shaken-sand percussion, subdued bass line, and upbeat drum strikes all create a buoyant atmosphere that belie the bleakness of Tolman's lyrics.
Tolman sheds a bit of light about the subject matter of the track, slyly revealing specific lyrics, "She's just another California kid with an attitude, her family's come quite unglued."
Pre-Order Goodbye El Dorado HERE
TOUR DATES
20 Apr Russ Tolman Presents GOODBYE EL DORADO Album Release Event, The Love Song, Los Angeles, CA, FREE SHOW!
08 May Café Berlín, Madrid, Spain
09 May Colegio de la Abogacía, Bilbao, Spain
10 May Nebula Bar, Pamplona, Spain
14 May Grünerløkka Brygghus, Oslo, Norway
15 May Bastard Bar, Tromsø, Norway
16 May TBA, Halden, Norway
17 May Folk å Rock, Malmö, Sweden
18 May Boldts Bar, Haderslev, Denmark
19 May Twang, Stockholm, Sweden
23 May Music Star, Norderstedt, Germany
24 May Kantine, Nürnberg, Germany