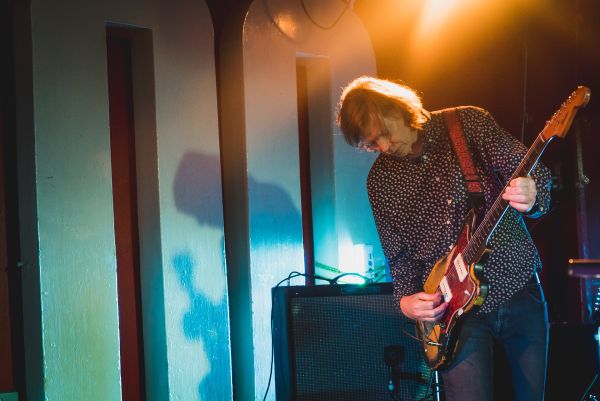 23 October 2018
Thurston Moore – live – Photo Credit: Paul Hudson
Today The Big Takeover is thrilled to present to you the premiere a seemingly long-lost track from none other than indie rock legend Thurston Moore, best known as the singer, songwriter and guitarist of Sonic Youth. Rolling Stone raved that Moore was the 34th best guitarist of all time in their 2004 edition of the 100 Greatest Guitarists of All Time.
"Klangfarbenmelodie.. And The Colorist Strikes Primitiv (Part 2)" is the second of three songs featured on the 38-minute album_Klangfarbenmelodie.. And The Colorist Strikes Primitiv_, which iwill come out on snazzy white vinyl format via London-based Glass Modern Records on November 2nd. Originally released in 1995 on CD only in New Zealand, this is the first time these recordings will be available on vinyl for an international audience..
In contrast to the sweet psychedelic pop of Moore's Psychic Hearts album, this is an innovative offering recommended for anyone interested in Thurston Moore's legacy of avant-garde music and writing. This live LP represents an intriguing chapter in his musical life, which has spanned his Sonic Youth days and his solo work to his varied collaborations and fully experimental recordings over the years.
Klangfarbenmelodie.. And The Colorist Strikes Primitiv sees Moore paired with free jazz drummer Tom Surgal for a blazing noise set, in keeping with the aesthetic of New Zealand noise label Corpus Hermeticum, who released the original CD. This album was the start of a budding collaboration between Moore and Surgal that saw them release music together in 1996, 2000, and 2015, as well as a joint 2000 release with Beck.
Bruce Russell of Corpus Hermeticum and New Zealand outfit Dead C edited these tracks for the new vinyl release, and he also contributed new liner notes.
Captured live in 1994, this recording is frankly charismatic with its lo-fi ambience, with the sound of an enthusiastic crowd intermingled with the music. Moore deep-dives into freeform improvisation here, with the chaos and raw energy of early '80s Sonic Youth. It's the sound of sharply planing guitar dynamics finding an echo chamber in the quicksilver drumming and cymbals scintillation.
This heady collaboration is wild, yet tight and intense as Surgal whips up a whitecaps churn at the drum kit, never stopping for a reprieve. A super-focused Moore shaves off extended, smoldering and flaming guitar tones, bending the notes to his will, like an expert artisan tortuously forging a burnished blade. The sound – the listening experience – is absolutely mesmerizing. One can only imagine the excitement and thrall of being in the audience when this riveting music was created!
Thurston Moore has been at the forefront of the indie alternative rock scene since the time he emerged as an artist. In 1980, he founded Sonic Youth with Kim Gordon, turning on an entire generation to experimental rock n' roll that defied the status quo. They and Lee Ranaldo and Steve Shelley were an underground – and eventually more mainstream – force to be reckoned with. Following Moore's separation from bandmate, wife, and partner Kim Gordon in late 2011, Sonic Youth was put on indefinite pause. The band's importance in rock history is indisputable.
Scheduled for release on November 2nd, Klangfarbenmelodie.. And The Colorist Strikes Primitiv can be ordered via Bandcamp on 180-gram heavyweight vinyl.
Glass Modern Records is the new incarnation of popular '80s label Glass Records, which brought us notable releases by David J, The Jazz Butcher, Spacemen 3, The Perfect Disaster, The Membranes, and Shadowy Men on a Shadowy Planet, among others. The label is once again making a name for itself as a source of great music, with recent releases including David J, Spiritualized, Duende, Velvet Crush, and The Venus Fly Trap, among others.
Catch the Thurston Moore Band on their Midwest and East coast tour this November, with Moore appearing with James Sedwards (Nought) on 12-string electric guitar and Steve Shelley on drums.
TRACK LIST
1. "Klangfarbenmelodie.. And The Colorist Strikes Primitiv (Part 1)"
2. "Klangfarbenmelodie.. And The Colorist Strikes Primitiv (Part 2)"
3. "Phase II"
TOUR DATES
NOV 2 Kingston, NY – BSP KINGSTON
NOV 3 New Haven, CT – Statehouse
NOV 4 Greenfield, MA, USA – The Root Cellar
NOV 6 Philadelphia, PA – RUBA
NOV 9 Minneapolis, MN – Thurston Moore: Moore at 60
NOV 10 Minneapolis, MN – Thurston Moore: Moore at 60
NOV 12 Chicago, IL – Art Institute of Chicago
NOV 15 Brooklyn, NY – Elsewhere
THURSTON MOORE
Website
Facebook
Twitter
Instagram
YouTube
Spotify
comments powered by