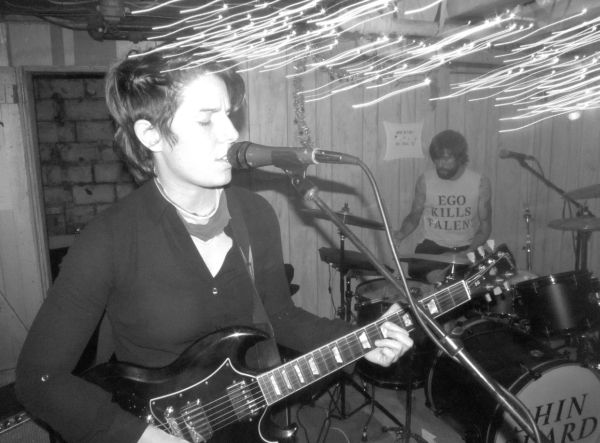 20 June 2019
Hearken – Photo Credit: Jadon Donaldson
Pittsburgh-based indie grunge duo Hearken rose from the ashes of the band Roulette Waves. They create sonically and emotionally potent music that combines elements of punk, grunge, indie rock, and new wave sludge.
Debut album Help Me, I'm Alive arrives on June 27th. Frontperson Donny Donovan's dynamic vocal melodies and wide range of tonalities shine through, allowing the band to write in multiple genres. Drummer Gregg Brunner adds the pace and rhythm with drumwork and percussion. When playing live, the pair bolster their sound with a backing track of guitar, bass, and synthesizer.
Help Me, I'm Alive was created to express the need and awareness of the self and the vitality of individuality. Many of the songs are focused on the battle between the lower and higher self, with the music eliciting delicate to dramatic mood swings. The album is heavy, deep, and cathartic.
The Big Takeover is psyched to host the premiere of "Last Time", an introspective, yet powerful, lyrically poignant track from the upcoming LP.
A single, shining guitar line and echoed drum beat start off the song, but then quickly fade away. Donny comes in with her direct to aching vocals, supported by silkily gleaming and circling guitar strum.
The lyrics are bold and stark, and speak of liberation from a cycle of abuse. It doesn't matter of what type, or if it's self-initiated or perpetrated by others. It's the recognition of the issue; a first step in breaking the downward spiral.
Donovan dives into the personal details of the song's meaning, revealing the raw and super-relatable backstory:
"This song is about my eating disorder. "This is the Last Time" is the constant phrase I heard in my head before I overindulged and threw up. Seems pretty ironic since I'm a health professional, but it's an issue I've dealt with since high school. After seeing a therapist and recognizing the issue, I've been able to control it."
"Ever since I was young I've comforted myself with food. My parents worked a lot and so I pretty much made my own food. I didn't eat very well, but was very active so people couldn't really tell. I got away with my diet habits. I played sports and would always reward myself with food mostly because my emotional needs weren't met."
"I think it also had to do with the fact that I was a queer child. I was sad, alone, and ate a lot. As I got older and graduated college, I realized how big this problem became. I wouldn't eat in front of people, but would drive around and eat an entire pizza and then throw up because I was so full. I hid wrappers and evidence from my partner. Taking the trash to dumpsters and lying about where I was. I was embarrassed. It was like drugs, but food."
"I felt so guilty and gross after eating, but just couldn't stop the cycle. I was not healthy. I would cry in my car and record messages on my phone to myself that I wasn't going to do it again. I told myself over and over and OVER I'm done doing this, but it just wouldn't stop. When my partner found out what was happening and I told my therapist, we realized how serious the issue was. I'm still working on my relationship with food. It's something that I can control, but it's so out of control at times. I've destroyed my body and the self-sabotage is real."
"The second verse [of the song] is me taking to myself; that I am good enough and that all the people that have caused me pain can disappear. This song can relate to anyone who is trying to stop a cycle. Every issue relates back to an addiction or need/want."
" We have to break the cycle of abusing ourselves or having abusive relationships with whatever that is. We are saying "This is the last time" for a reason. Yes, some things you have to work through and it's not easy, but being aware that you need to change is the first step. This relationship doesn't serve me. I am good enough to feel happy and loved. I'm not going to do X again."
Hearken are going strong on the scene and have opened for some great bands including The Screaming Females, Camp Cope, Potty Mouth, Dream Wife, and The Coathangers. Hearken will soon embark on their first headlining tour, so keep an eye out for the latest information.
Check out the compelling videos that Hearken have created for their two previous singles:
Bandcamp
Facebook
Instagram
Website