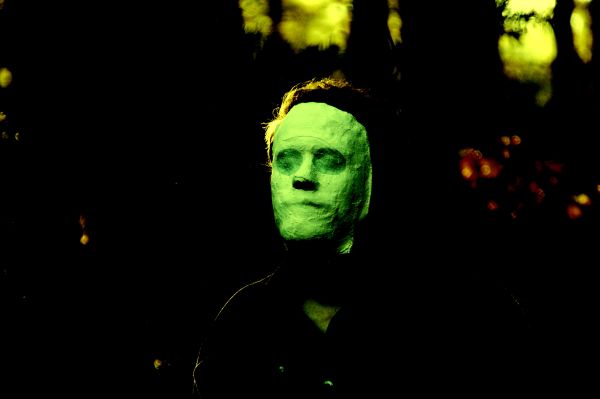 21 November 2018
Alexander Leonard Donat of Vlimmer – Photo Credit: Ulrike Donat
A glance at the tracklists of Vlimmer's new double-EP makes the differentiation between the two records clear: The more airy XI comes up with titles like "Wärme" (warmth), "Leben" (life), "Lösung" (solution), and "Licht" (light), which stands in contrast with the more aggressive XII that's rife with "Farblosigkeit" (colorlessness), "Krakenkombat" (octopus combat), "Zerschmetterung" (wrecking), and "Atemnot" (breathlessness).
Vlimmer is in the midst of an 18-chapter narrative about a young man who appears to be dissolving in between reality and delusion more and more. XI loses its doomed, impotent protagonist to a dreamworld which could hardly appear more relaxed.
The Big Takeover is highly pleased to host the premiere of the swirling electronic noir/darkwave "Licht". Tribal drums cut through the opaque atmosphere of "Licht", pushing into a place without any notion of time. When the thick Slowdive-like shoegaze guitars in the chorus set in, one feels like drifting away, lying under a parasol on the shores of a crystalline lake in the middle of a dark green pine forest; yet always haunted by an intangible threat lurking in the background, even though the blue sky, bright sun, and a few harmless white clouds suggests serenity and joy.
Alexander Leonard Donat, the sole member of Vlimmer, sings of "Dominanz des Lichts" and "Bin noch nicht wach" (dominance of light; not yet awake), which gives the listener an idea of being trapped in the transitional phase of leaving one state of mind for another.
In the case of "Licht", it's a delusional place within a delusional space. The atmospheric, washed out, almost narcotic realm is something that shoegaze fans who like it a little gloomier will appreciate, and for post-punk and darkwave listeners who want to step out of the boundaries of the genres to face a more emotional approach. Take a listen to the intriguing track below.
XI and XII will be released on November 23rd via Blackjack Illuminist
comments powered by