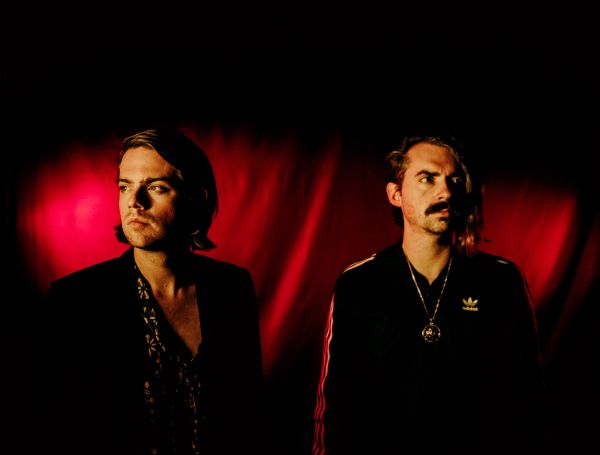 24 March 2020
The Holy Knives – Photo Credit: Oscar Moreno Photography
The Holy Knives, a rock group from San Antonio, TX (via New Orleans), is composed of brothers Kyle and Kody Valentine. Their music layers baritone vocals over Western soundscapes with downtempo grooves for a mesmerizing effect.
The Holy Knives are currently releasing their new EP Always Gone as a series of singles, and will continue to drop at least one song a month for the remainder of the year. The run of songs follow up the band's debut album Year of the Black Dog, which came out in 2018.
The Valentine's took their band name from a combination of two of their favorite works of art; the film The Holy Mountain by Alejandro Jodorowsky and the poetry book The Singing Knives by Frank Stanford. Both of these works, while of different mediums, conjure a flood of beautiful, thought-provoking imagery, as well as share a fearlessness and a quest for truth through the irrational that The Holy Knives strives to capture in their music.
Drawing musical inspiration from acts such as Portishead, Leonard Cohen, The Arctic Monkeys, and Timber Timbre, The Holy Knives could be imagined performing at the Bang Bang Bar from Twin Peaks or playing in a True Detective episode. Their belief is that music is a sacred weapon you can use to ward off the march of reality.
Big Takeover is pleased to host the premiere of "Love Runner," a hypnotic and atmospheric slow-burning track off the upcoming EP. Desert psychedelia, synthwave noir, and ruminative rock 'n' roll all blend into a bewitching brew on "Love Runner."
Kody's deeply sonorous and heartfelt vocals form the emotional core of the song, as quirky spritzes and enveloping waves of buzzing synths add an interesting contrast to the more contemplative, measured-pace Western guitar reverberation.
The Valentine's drop details about the track, revealing, ""Love Runner" is a song that will slow your heart rate; [It's] slow-burning and synth-driven. It combines elements of '80s synth-pop with Texas chopped and screwed. This is the third single of 4 on the Always Gone EP, and to us it is the most distinct-sounding track and has our favorite ending of any other song on the EP. When we've played this song live, the synth reprise in the verse has hypnotized the crowd into a slow-mo dance circle. We hope that's the effect it has on all listeners."
Website
Facebook
Instagram
YouTube
Spotify