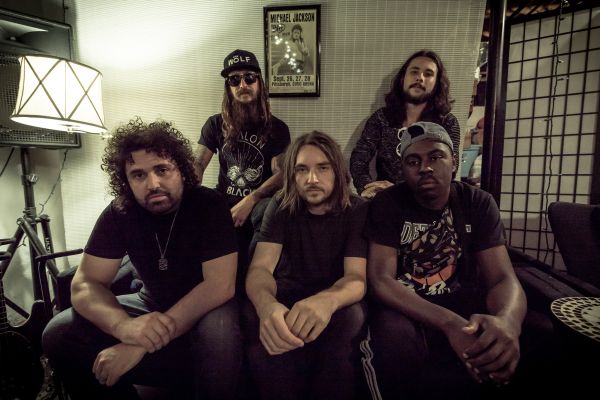 26 June 2019
The Lows – Photo Credit: Dan Plucinski
Rock band The Lows offer up a powerful and tuneful musical brew that blends traditional hard rock structure and spirit with modern production techniques. A self-described "groove rock" band, The Lows aren't afraid to rock and roll with supersonic rhythms and catchy anthems.
The Detroit-based rockers are gearing up to release their forthcoming two-song EP titled The Love Sessions. The EP was produced by Grammy Award-winning producer/engineer Chuck Alkazian (Soundgarden, Pop Evil) and recorded at the legendary Pearl Sound Studios (Robert Plant & Jimmy Page, Madonna, Eminem).
The Big Takeover is mighty excited to host the premiere of the catchy and dynamic "Love Xtinction", one of the dynamite cuts from the EP. On the track, the drum beat strikes hard against a grittily shimmering sway of guitars, crisp handclap percussion, low-end bass line, and sharp and vivid exclamations from Angelo Coppola (founder, lead vocals, guitar).
Coppola explains the backstory of "Love Xtinction", revealing that he wrote it after going away to college. "It was kind of an isolated, lonely time in my life and I was not feeling the love at all. Seemed like on television, in the media and on social media, I was seeing nothing but hate, selfishness and jealously. I was thinking love was becoming extinct and I didn't want it to change me."
The Lows have been on a spectacular roll, performing sold-out shows with Candlebox, Pop Evil, Puddle Of Mudd, and Sponge, as well as numerous headlining spots in 2018. Their heavy road anthem "Road Trippin'", from The Lows EP, was licensed for the soundtrack of 704 Games NASCAR Heat 3 video game.
This year is shaping up to top the last, with the band getting four 2019 Detroit Music Award nominations and frontman Angelo Coppola being named Best Music Artist in the 2019 Detroit Metro Times "Best Of Detroit" readers poll. The Lows will also be playing shows with Stone Temple Pilots, Sponge, The Verve Pipe, and Eddie Money this summer.
Website
Facebook
Instagram
Twitter