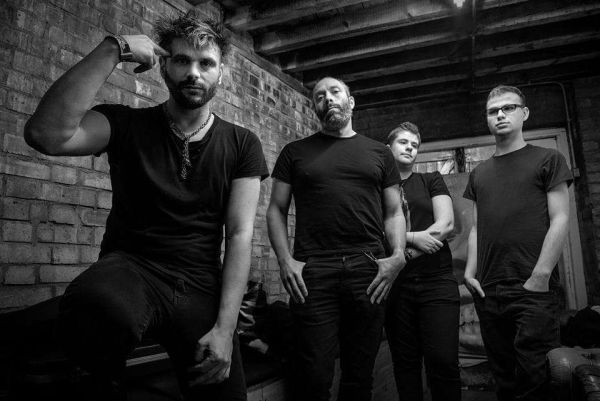 14 June 2019
The Microdance – Photo courtesy of The Microdance
The Microdance is a London-based band consisting of Alex Keevill (guitars, synths, lapsteel guitar, vocals), Andy Davis (guitars), John Ganner (drums), and Diletta Gari (bass, vocals). August 30th will see the release of their much-anticipated Our Love Noire, the full-length follow-up to New Waves of Hope.
"Lovesick Kisses" is the first release from the new album, and it's an explosive first look at what's to come. The Big Takeover is excited to be hosting the premiere of this dreamily abrasive alt-rock track. It officially comes out on June 21st via Somewherecold Records.
The Microdance's music has been described by Vice Magazine as "a heady confection of epic alternative rock, shoegaze, new wave with the occasional dose of tasteful metal – the most exciting alt rock in a decade", and their latest material lives up to this description.
The driving "Lovesick Kisses" is the opener for Our Love Noire and sets the mood for what follows. Aggressive and emotively powerful, "Lovesick Kisses" is typical of The Microdance's mix of rock and shoegaze where fuzzy guitars, propulsive drums, and heartfelt vocals all shine.
The single has a B-side titled "Hex on the Horizon" that loses itself in a beautiful, but still vocally potent, reverie. It serves as a gentle contrast to the exciting tumult of "Lovesick Kisses."
Website
Facebook
Twitter
Instagram
Somewherecold Records