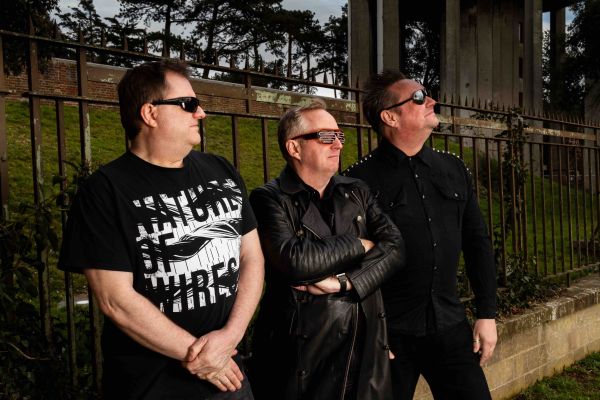 9 July 2019
Nature of Wires – Photo Credit: Russ Dalen
Once again, there is good occasion to be looking across the Atlantic to our musical brothers in England. This one is partly to do with "the new" (an album soon to drop) and partly with "the past" (the band in question can trace their musical beginnings back three decades).
Who are we referring to, you may be asking? Electronic stalwarts Nature of Wires, who have just announced their forthcoming Modus album, which was 30 years in the making. Today we present the premiere of the first single off this album, entitled 'Madame Serena'. This release also features a remix by electronic body music and electro-industrial artist Leaether Strip.
The Big Takeover is delighted to host the premiere of the propulsive "Madame Serena", a perfect-for-the-club number that moves with a pumpin' beat, pulsing percussion, airy synths diffusion, and catchy vocals.
This album is bound to appeal to fans of Gary Numan, Mesh, Leaether Strip, Erasure, Human League and that would not be due to emulation of any sort. Rather, they are all peers, who developed the UK synth scene with each other from the ground up. Fortunately, Nature of Wires are still together today and this album is testimony to that. Upbeat and catchy, while at the same time synthesizing the best of the '80s synthpop into this one track, Nature of Wires makes their impressive mark with seamless professionalism and a convincing performance.
'Modus' is actually a double album, set to be released on August 16 via Manchester's Analogue Trash label. Comprising 18 tracks, this is '80s-influenced synthpop with a dark edge. The album had its genesis in the late '80s and early '90s, and was recently rounded out with a host of remixes created the band's musical peers and friends. Anybody ordering the album will immediately be able to download two tracks: 'Every Single Sun' and the remix of 'First Light' by European electronic giants Mesh.
"Modus has been 33 years in the making and includes songs written between 1986 and 1993, recreated using 21st century technology. We want to look back on this album in 20 years' time and be satisfied that it is as good as possible," says Gary Watts.
"So we've involved some top producers – namely Steve Whitfield (The Cure, The Mission, Shed Seven, Terrorvision, Jah Wobble) and Mike Marsh (Calvin Harris, OMD, Human League, Chemical Brothers, Moby, Shamen, Massive Attack, Erasure, 808 State, The Prodigy, Depeche Mode). Artwork is by the super-talented Vlad McNeally. This is our final farewell to our younger years, representatives of the sound we created back then."
Nature of Wires was formed in 1986 in Herefordshire. The original line-up was Gary Watts (synths & programming) and Andrew Stirling-Brown (vocals). The band went on hiatus in 1994 until reforming in 2015. In 2016, they released Cyber Rendezvous with California's CountessM on lead vocals, their first album since 1993's Modus Operandi. The band's live shows were enhanced by the addition of Tim Powell-Tuck on electronic drums, with a UK tour and BBC appearances.
CD1 features 8 original tracks, forged during a time of personal and musical change, and with striking clarity in this music and lyrics. But now, with access to top of the line music technology, Nature of Wires have refined and reinterpreted the inner soul and meaning of each song to create something that reflects an exciting time in the history of electronica and dance music, while also holding its own in the modern synthpop scene.
On CD2, Nature of Wires curated re-imaginings of tracks on CD1, offered by alternative electronic heavyweights Leaether Strip and Mesh, UK post-punk buzzband Klammer, and label-mates Room 1985, The Cowls, and AtomZero. Applying their own vision whilst being faithful to the spirit of the originals, they've each re-interpreted the tracks in their own impeccable styles, adding to the sense of history that underpins Modus.
There's a sense of finality to Modus, as well as a statement of intent for the rebirth of Nature of Wires, coming to terms with the past in a glorious and positive fashion, and preparing for an exciting future.
"CD1 presents the retro-electro, 'lighter' side of our writing, influenced by the synth-pop of the '80s and '90s scenes. A 'definitive' version of the material we had back then, but with a modern edge. It brings together the core of our older fan-favourites and the very first song we wrote and one left unfinished in 1993, finally completed over 20 years later! We envisioned CD2 not just as a collection of remixes, but a deliberate companion or twin to 'Modus'. This is not a double album; it's a dual album," says Andrew Stirling-Brown.
Nature of Wires has appeared with many great electronic artists, including Empathy Test, Leaether Strip, Aesthetic Perfection, Lord of the Lost, The Frixion, Rodney Cromwell and Vieon. They also created remixes for the likes of Massive Ego, Leaether Strip, Sigue Sigue Sputnik Electronic, !distain, Precog, Advance, Freakangel, Machine Rox and Vogon Poetry.
On August 16, the Modus LP will be released everywhere digitally and as a 2CD digipak. The album can be pre-ordered via Bandcamp. In the meantime, go download the 'Madame Serena' single. Nature of Wires have also announced a string of live dates in the UK and Europe in support of this album, as found HERE.
TRACK LIST
1. Feel the Hunger
2. Time is Come
3. Negative Resolutions
4. Seagull
5. Every Single Sun
6. Harry's House
7. Madame Serena
8. First Light
9. Feel the Hunger (Atomzero Nightlife Remix)
10. Time is Come (The Cowls Remix)
11. Negative Resolutions (Cyferdyne's Glass Half Full Remix)
12. Seagull (Workings of a Madman Remix)
13. Every Single Sun (St Lucifer Remix)
14. Harry's House (Klammer Remix)
15. Madame Serena (Leaether Strip Remix)
16. First Light (Mesh Remix)
17. Time is Come (Room 1985 Remix)
18. Feel the Hunger (NoW AT4 Remix)
TOUR DATES
Jul 27 LONDON – Hope & Anchor, Islington (with 1i2c, I Am Warface & The Rude Awakening)
Aug 9 EASTNOR, Herefordshire – LakeFest (with Kaiser Chiefs, Bluetones & Bez)
Aug 17 LEDBURY, UK – Nestfest
Sep 20 BERLIN – The Mazen (with The Pink Diamond Revue, LegPuppy & e-bit)
Sep 21 LEIPZIG – Noch Besser Leben (with The Pink Diamond Revue & LegPuppy)
Oct 18 BIRMINGHAM – The Mill, Digbeth (with Among the Echoes & Toyah)
Nov 8 BIRMINGHAM – Scruffy Murphy's (with Vieon, Among the Echoes & Vain Machine)
Nov 9 LONDON – Beat:Cancer Festival 2.0, Electrowerkz
Nature of Wires
Website
Facebook
Bandcamp
Twitter
Instagram
Spotify
YouTube
SongKick