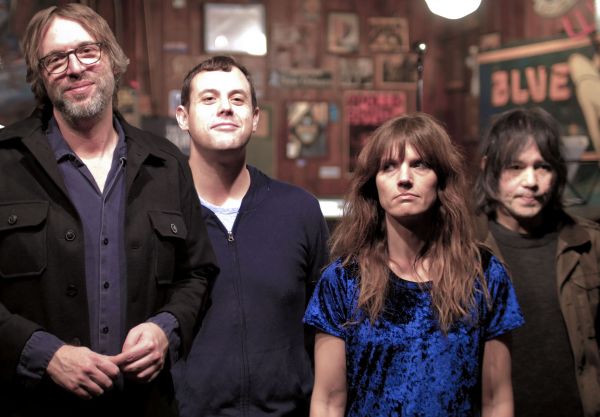 19 February 2019
Loose Wing (L-R): Bill Patton, Jack Peters, Claire Tucker, Rusty Willoughby. Photo credit: Doug Arney
Loose Wing is a new Seattle-based band fronted by songwriter Claire Tucker. The four-piece will issue its self-titled debut album on March 22nd, consisting of nine songs that fearlessly explore themes of anxiety, isolation, intimacy, and teen angst that has yet to be outgrown. Along with Tucker (guitars, vocals, keys), Loose Wing features Tucker's husband Jack Peters (bass), Rusty Willoughby (drums, percussion), and Bill Patton (guitar, pedal steel).
Despite the weighty subject matter, Tucker's tunes maintain an easy confidence throughout the album, with melodies that often remind of a Neko Case or PJ Harvey fronting a band like R.E.M.Other contemporary influences on the LP include Kate Bush and Guided by Voices.
Throughout the album, Loose Wing's elegant incorporation of string accompaniment pops up at just the right moments to deepen the drama of Tucker's lyrics, while also providing a counterpoint to the band's Peter Buck-ish guitar sound.
Tucker is meticulous with her lyrics, and if they seem dark, that fact can't be solely attributed to lingering memories of teenage turmoil. The band members are all in their 40's and 50's, which means that Loose Wing only sounds like the freedom of youth. In actuality, Tucker's songs and the band's playing comes off effortlessly because so much difficult living has already been put into perspective and dealt with.
The Big Takeover is pleased to host the premiere of second single "Moving Blankets". The track is about the challenges of true emotional intimacy, albeit set against an addictive bed of upbeat jangle pop.
Sweet guitar chime rings out from the start and is equaled by Tucker's emotive vocals. Her stark, but vivid lyrics contrast against the bright sonics, low-end bass line, and punchy drum beat, while the song swells midway and to the end with a rise of symphonic strings
Claire Tucker relates details about "Moving Blankets", revealing, "Upbeat fuzzy jangle pop. About the difficulty of true emotional intimacy. Mind games, arguments. More feedback, which was super fun to record. Guided By Voices and R.E.M. came up when working on this one. We'd only practiced it maybe five or six times as a band before recording it so it felt really fresh and energized. I came up with the title "Moving Blankets" first and really liked something about it, how it appears at first mundane but then when you roll it over in your head it turns into something else. At least it does for me. Anyway, I didn't really have a theme in mind starting out besides that phrase, but it ended up being about how in relationships we move through life without ever really understanding each other. I feel like relating to people is so much about conflict and apologies and explaining and repairing damages, rather than being truly supportive or appreciating people for who they really are. And we all have trauma or grievances that we avoid dealing with because it feels too difficult or painful, and maybe we never get around to it our entire lives. And the moving blankets are this padding we wrap things in to prevent them from knocking into each other because we are afraid of breaking something. So this song is about the struggle to know and care for other people and also to let yourself be known and cared for."
Tour dates:
02/22/2019: Seattle, WA at LoFi Performance Gallery (w/ Guest Directors)
03/22/2019: Vashon, WA at Red Bicycle Bistro (w/ Society of The Silver Cross)
03/23/2019: Seattle, WA at Blue Moon Tavern (w/ Black Nite Crash)
04/05/2019: Portland, OR at Hawthorne Hideaway (w/ Hollow Sidewalks, nine:forty:pm)
04/13/2019: Bend, OR at LOGE
comments powered by