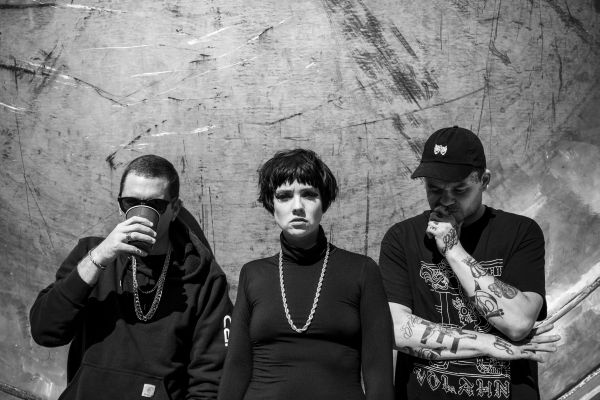 19 May 2020
The Criminal World – Photo courtesy of The Criminal World
Portland, OR-based post-punk/darkwave outfit The Criminal World will be releasing their mini-LP We Spilled Blood For The Money on May 29th via Cercle Social Records (Soft Kill, Human Leather).
The five songs on We Spilled Blood For The Money were recorded in a modest Portland basement and showcases a trio destined for something special. The mini-LP was mixed by Toby Francis (Ariana Grande, Kanye West, Travis Scott) and mastered by Adam Gonsalves at Telegraph Mastering.
The record follows up the Pure Vory demo cassette, and subsequent release of "Seeing Double" and "Paper" on 7" via London label Farewell Records in 2016.
Band members Nicole, Tobias, and Conrad are inspired by acts like Curve, Stone Roses and the Swirlies, building a dark, rich, and atmospheric sound that ripples with layers of Gothic, hollowed out mystery, spectral and foreboding vocals, and gritty, dynamic rhythms.
Big Takeover is psyched to host the premiere of the mini-LP opener, "Mox Jet," which resounds with reverberating guitar chime, low, grinding bass line, a strictly hit drum beat, and floating, brooding vocals that echo off the carved out caves of sound.
Nicole digs into the details of the song, explaining, "We picked this song to open the album because we felt that it was to the point and pulled you into our little world. We recorded these songs in the basement of our house in Portland on a bunch of late summer/early fall days. It felt the way Portland used to feel when we were young. Spending the last hot days before the rain in a cool basement making stuff with your friends."