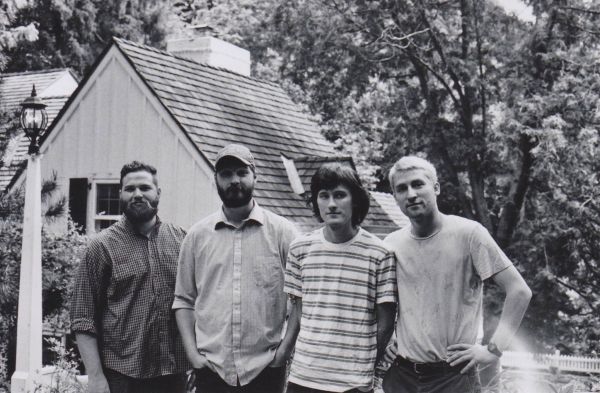 20 September 2018
the Roof Dogs – Photo Credit: Jake Paule
Small towns, despite their absence of big city color, often provide an outlet for pent up creativity. Originally formed in Granville, Ohio, the Roof Dogs' songwriter/guitarists Andrew Marczak and Jesse Cheshire met playing songs at a vintage shop/taco bar. The band's music still recalls this formative setting.
Drawing from an eclectic roster of influences ranging from the country rock of Gram Parsons and art rock legends such as John Cale and Television, to early indie acts like Camper Van Beethoven, the Roof Dogs write rock 'n' roll through the frame of a bygone era. The band is joined by Jesse's high school classmate Sean Maher on the bass guitar and Columbus native Walker Andersen on drums, punctuating their sound with a melodic and shapely rhythm section.
"Mr. Taxovich", which The Big Takeover is please to premiere here, is the latest single from the Roof Dogs, being released in advance of their upcoming EP, the Roof Dogs are This Week's Winner. "Mr. Taxovich" represents the first song entirely written by songwriters Jesse Cheshire and Andrew Marczak as a team.
The track is a nostalgic and hazy exploration of listless expatriates road tripping across a distorted American landscape, set to a '70s-inspired rock 'n' roll groove, replete with funky rhythm guitars and a smooth rolling bass line.
Tour Dates:
9/28 – Cincinnati, OH at Northside Yacht Club
9/29 – Lexington, KY at Best Friend Bar
9/30 – Nashville, TN at House Venue (message band)
10/1 – St. Louis, MO at TBA
10/2 – Bloomington, IN at TBA
10/3 – Chicago, IL at Sylvie's
10/6 – Toledo, OH at The Ottawa Tavern
comments powered by