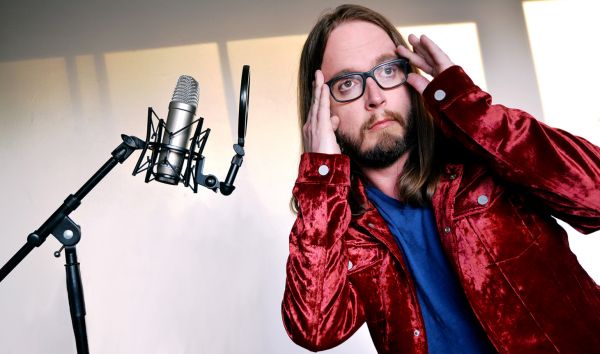 26 April 2019
Patrick Galactic – Photo courtesy of Patrick Galactic
Today, Seattle-based psych-pop songsmith Patrick Galactic shares his new single "My World Alone", and The Big Takeover is happy to join in by hosting the premiere of the track.
"My World Alone" reimagines the classic crooner as a toxic male bemoaning his inability to connect as ethereal synths boogie against an infectious bass line. Cosmic funk and irresistible pop hooks create a wonky swagger as Galactic's narcissistic narrator airs his utter lack of self-awareness.
"The song was written as a bit of a throwaway in 2013," said Galactic. "When I rediscovered the track, it was a somber, slow, minor key dirge. Reimagining it as a velvety pop breakup song from a narcissist's point of view…someone who is coming from the heart but utterly unaware of their own toxicity and unaccountable for their behavior…gave it gravity. It felt vital and necessary."
"'My World Alone' is straight-faced satire of the toxic male/'nice guy' perspective and how profoundly limited and dangerous it is. It is an admonition, not sympathy for the devil. My hope is that people who still share this perspective can hear it out loud and internalize how profoundly cruel, misogynistic, and warped it is."
Patrick Galactic has endeared himself to Northwest audiences with his magnetic live performances and cerebral storytelling. His use of raw acoustic instrumentation, cinematic electro-psych and pure pop melodies has drawn comparisons to Ariel Pink, Kurt Vile, and Unknown Mortal Orchestra.
"My World Alone" was mixed by Simon Nicol, mastered by Rachel Field of Resonant Mastering, Seattle, WA, and produced by Simon Nicol and Patrick Galactic.
Website
Facebook
Twitter
Instagram
YouTube