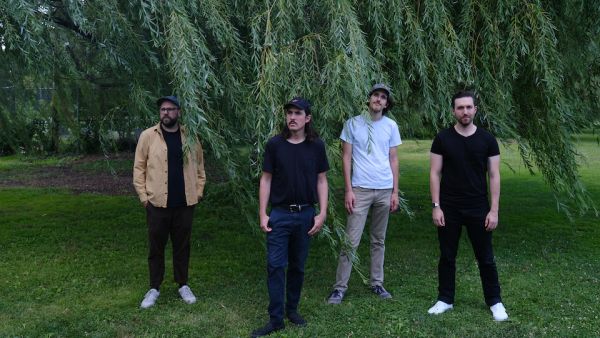 30 September 2020
Dogs At Large – Photo Credit: Julie DiDomenico
Chicago-based psych-Americana band Dogs At Large recently unleashed the lead single off of their upcoming fifth full length Jeopardy, and today Big Takeover is pleased to host the premiere of second track "New Disguise."
Dogs at Large spent much of 2019 creating a record to capture their live energy, only to find themselves in 2020 without live shows and touring. Given the band's original intent with the upcoming LP, Jeopardy showcases the outfit's driving and thorny guitar interplay, as well as psychedelic-steeped extended instrumental codas.
There's also still quite a bit of tuneful Americana and melodic soft rock on Jeopardy that was present on their previous albums. Songwriter Sam Pirruccello contrasts his at times airy harmonies against alt-rock guitar drops, while singing about climate change, the decline and collapse of America, and our political leaders. Pirruccello delivers the lyrics and insights with the comforting touch of an old friend.
Pirruccello (vocals, guitar) is joined by Adam Gilmour (bass, vocals), Jamie Yanda (guitar), Steve Malito (pedal steel), and Chris Kolodziej (drums) in crafting psych-Americana compositions crammed with upbeat instrumentation that contrasts with the sometimes acerbic lyrics.
"New Disguise" is a prime example, an upbeat, yet relaxed power pop/Americana hybrid that shines with glistening guitar lines that spin bright webs amid the low-end bass, pushing drum beat, and cymbals tap and shimmer.
Pirruccello sings in a laid-back to passionate tone amid calm verses and stirring chorus sections, reflecting that, "The universe expanding / out of sight – and out of mind." and then mulling over the question, "Was you time on Earth a waste?" Heavy thoughts for a sonically buoyantly light number!
Spotify
Bandcamp
Facebook
Instagram