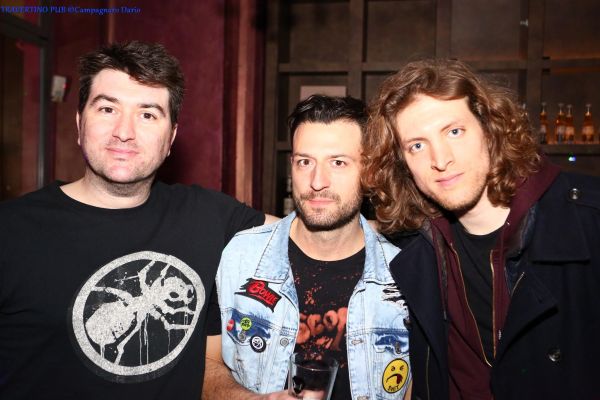 11 September 2019
Elizabeth The Second – Photo Credit: Dario
Over the past few years, it seems that Italian artists are becoming heard abroad more and more. These sounds make their way over her with incredible speed compared to several decades ago and they were not really heard much at all back then anyways. We welcome this change. What will come across as the biggest surprise to many people is that an Italian band could sound so very British. On that note, we introduce you today to rock trio Elizabeth The Second. Hailing from Padova, their first single 'No One Cares' is a worthy listen – it rocks out with a potent dose of adrenaline, this sonic delight making your blood pump a bit faster. This emanates the vitality youth.
Elizabeth The Second are Ben Moro (guitar and vocals), Michele Venturini (bass guitar), and Luca Gallato (drums). Their music is influenced by The Clash, Blur, The Libertines, Artic Monkeys, Nirvana, and The Stone Roses, which is interesting as you can definitely see parallels here with Blur, but also The Libertines, The Strokes, and Born Ruffians.
'No One Cares' is the first taster of their forthcoming debut album Two Margaritas at the Fifty Five. Sonically, this music blends classic garage rock with punk and grunge accents. Frontman Ben Moro takes his voice to the boiling point, wavering between delicate cries and biting screams.
Formed in mid-2018 in Padova, northern Italy, this trio was born of shared excitement over music and its creation. The desire to return to play together between Ben and Michele, old friends, were interested in playing together again after a significant gap, but it wasn't until they met up with Luca that they found the magic formula for the band's genesis.
The Two Margaritas at The Fifty Five EP is a journey through impulsive sounds, seasoned with a captivating melodic compartment. It was recorded at the Hypnoise Recording Studio under the careful supervision of sound engineer Filippo Galvanelli and mastered by Giovanni Versari at La Maestà Mastering Studio (Muse, Afterhours, Verdena, Calibro 35, Nic Cester).
This EP references everything that has been essential and musically formative for the trio – strong influences from the 90s and 2000s mesh tastefully with sounds borrowed from The Stone Roses and The Clash. Here, punk, grunge, indie rock and Britpop blend together under the clear influence of classic UK rock. The guitars are raw, well marked by the amps' saturated and incandescent tubes, amalgamated by a pressing rhythmic compartment, sometimes on the frontiers of dance. The lyrics are inspired by the band's daily experiences and the most impulsive and hidden outbursts, transformed into a stream of consciousness.
As of October 15, 'No One Cares' will be available across online stores and streaming platforms. The full album Two Margaritas at the Fifty Five will be released on November 9, well timed with their London gig at The Unicorn Camden Live that very evening for Punk'n'Roll Rendez-Vous. It can already be ordered HERE
CREDITS
All Songs are written by Elizabeth The Second
Produced by Elizabeth The Second
Recorded and Mixed by Filippo Galvanelli at Hypnoise Recording Studio (Vicenza)
Mastered by Giovanni Versari at 'La Maestà Mastering' (Muse, Afterhours, Verdena, Nic Cester, Calibro 35)
TRACK LIST
1. No One Cares
2. Mickey
3. Yesterday I Was 20
4. Soho
5. Gimme One Euro
Elizabeth The Second
Bandcamp
Facebook
Instagram
SoundCloud
Twitter