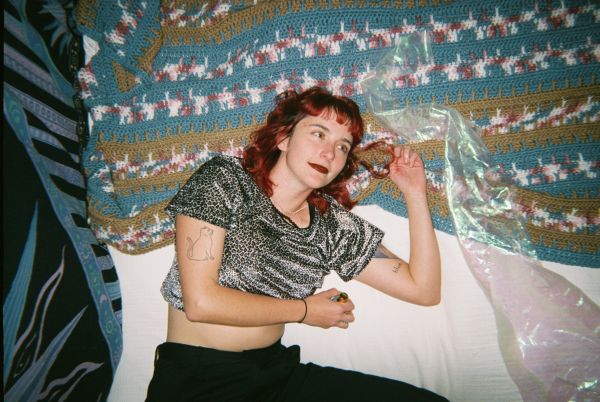 25 November 2019
Samira Winter – Photo Credit: Marina Aguerre
Winter is coming – Samira Winter, that is. The indie rock/dream-pop artist, who releases music under the Winter moniker with a full backing band, recently signed to the renowned Bar None record label and will be dropping her latest EP, titled Hazy, on December 6th.
Hazy is a lo-fi collection of tracks that Samira recorded at her home and that she played almost every instrument on. The only exceptions include contributions from Frank Flowers (Danger Collective) and her label mate Justus Proffit, who made waves last year with his Jay Som collaboration and own debut for Bar None.
On this EP, Samira takes a different approach than on her past releases, changing from her blissful and swirling dream-pop sound to a pared down, narratively reflective, and more intimate indie rock style.
Samira is known for her ethereal, psychedelic-tinged dream-pop music that also combines the breezy melodics of local pop songs she heard growing up in Curitiba, Brazil. She moved to the US to study at Boston's Emerson College and began to release music as Winter during her senior year.
A move to LA's Echo Park widened her reach and she and her band quickly built up a cult following with a string of bilingual releases. Winter went on national tours supporting Broncho and Cherry Glazerr, as well as played international dates in Mexico, South America, and Europe.
Samira has now taken another step into the spotlight by signing to Bar None, a label responsible for early releases by Yo La Tengo and They Might Be Giants.
The Big Takeover is psyched to host the premiere of "Nothing More," a central, love-themed song off the EP. Nostalgia for summers gone by is a evocative force that moves Samira. She immerses herself that suspended-in-time feeling of being young and experiencing the emotional turmoil of first-time love.
On "Nothing More," Samira explores darker territory on her own. Where once she whisked the listener away to fairy tale realms, she now keeps it real, yet still always enchanting. Against a steady drum beat, soft cymbals shimmer, angular, piercing guitar lines, and subdued bass, she languorously draws out her words, confessing, "I want nothing more / than your love."
Samira's wistful vocals are a sweetly melancholic balm as she pensively reminisces about the hazy past, a time when the future – and even the present – was unclear. "My favorite kind of music mixes beauty and sadness," Samira reveals, explaining the juxtaposed moods.
Coming on the heels of her second Desert Daze appearance, and a West Coast tour supporting South American psych legends Boogarins, Winter's Hazy EP is expected to be everywhere this season.
Dec 21st – Winter (solo) opening for Varsity at Market Hotel
Tickets HERE!)%20w,Eventbrite
Feb 15, 2020 – Winter supporting Part Time at The Regent
Info HERE
Facebook
Twitter
Instagram
YouTube
Bandcamp