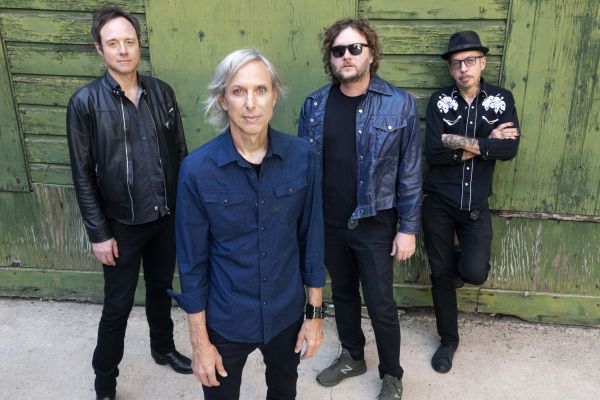 7 November 2019
Live Skull – Photo Credit: Kirsten Thoen
Iconic New York City-based band Live Skull who, along with Sonic Youth and Swans, defined the term "noise rock" in the '80s, have reformed and will be imminently releasing their first new album in 30 years. Their Saturday Night Massacre LP will drop on November 8th via Bronson Recordings.
Live Skull spearheaded the post-No Wave underground music scene in NYC with a series of legendary live performances (playing venues like CBGB and Danceteria) and eight groundbreaking records (recorded mostly by the renowned Martin Bisi) released over the course of that decade.
Live Skull's sound was influenced by British post-punk — Joy Division and Public Image Limited, in particular — but was located squarely in the depths of downtown Manhattan. The band's '80s recordings buzz with the danger and the creative freedom that defined NYC in those years.
The band had also toured the U.S. with the likes of Jane's Addiction, but their 1989 album, Positraction, would be their last recording until the reformation this year and the upcoming Saturday Night Massacre.
The line-up for the album consists of Mark C (vocals, guitar, synths), drummer Rich Hutchins (a member from 1987-1989), and new bassist Kent Heine (a bandmate of Mark C's in the electronic-based project o13). The album also features guest appearances by former band members Thalia Zedek and Marnie Greenholz.
Saturday Night Massacre was recorded and mixed by Mark C and Live Skull at Deepsea in Hoboken, NJ, and mastered by Fred Kevorkian (Iggy Pop, Debbie Harry, Peter Murphy).
The Big Takeover is thrilled to host the premiere of the punchy and restless "Nova Police", a potent track taken from the new album. It features Thalia Zedek harmonizing with Mark C. amid chugging bass line rhythms, emphatic drum strikes, and burnished, angular guitar churn. Zedek's voice twins with Mark C's as they ruefully declare, "The sound of change has a hollow ring."
Giving some socio-political insight into the band's mission statement, Mark C comments: "Live Skull formed during the Reagan administration, whose right-wing, anti-progressive agenda ushered in what Mark E. Smith dubbed "the new dark ages." It's only fitting that we reunite thirty years later in the midst of a new era of burgeoning anti-enlightenment forces; motivated more than ever to amplify our concerns for the preservation of social and artistic freedoms."
"We are not simply continuing where we left off; the world has changed and so have we. But our core values and interest in the enlightening possibilities of raw self-expression have remained intact. Live Skull is still committed to breaking down sonic and social barriers…"
Pre-order Saturday Night Massacre
TOUR DATES
Nov 7 – Queens, NY at Feels (Saturday Night Massacre album listening party and Q&A with the band)
Nov 17 – Groningen, NL at Vera w/ Jon Spencer
Nov 18 – Rotterdam, NL at Rotown w/ Jon Spencer
Nov 21 – Ravenna, IT at Transmissions Festival
Nov 22 – Ravenna, IT at Transmissions Festival
Nov 24 – Lille, FR at La Malterie
Nov 25 – Amsterdam, NL at OCCII
Nov 26 – Berlin, DE at Urban Spree w/ White Hills
Nov 29 – Brooklyn, NY at Saint Vitus Bar (Saturday Night Massacre album release show)