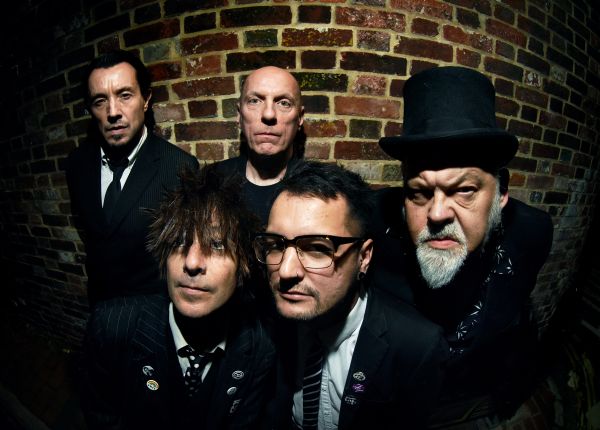 27 February 2020
The Cravats – Photo courtesy of The Cravats
Legendary British post-punk band The Cravats haven't hung it up yet in the least, and they'll be tying one on this March 13th with the musical huzzah of their latest album, Hoorahland, out via Overground Records.
The Cravats formed in Redditch, UK way back during the British punk movement of 1977, but they marched to the beat of their own drummer and released stylistically hybrid, ear-pricking up, and head-scratching music that was, and still is, hard to label. And that's a very good thing.
The Shend (vocals), Svor Naan (saxophone, clarinet), Joe 91 (bass), Rampton Garstang (drums), and Viscount Biscuits (guitar) have been intriguing listeners for a long time, with their previous acclaimed LP, Dustbin of Sound having made its way out in 2017.
New album Hoorahland comes some 40-plus years later and shows a band that's totally in control of its sound and vision, releasing 12 compositions that chronicle the view from The Shend's brain laid out like a sumptuous set of doilies upon the sax-riddled, bass-laden engine that Biscuits, 91, Garstang, and Naan have fashioned.
Last year The Cravats dropped lead single "Shy" backed with "Good For You" off the album. The tracks were championed on radio by Gideon Coe, Marc Riley, and Henry Rollins among others.
On Hoorahland there are ten other opuses covering everything from the lack of God, Austin Allegros, and granny's faded jeans to tight-fitting jar lids, grouted portholes in Cartel submersibles, and Brian May's shirt. Yes, The Cravat's are a surreal and eclectic band!
Plus, of course, there's that duet, "Now The Magic Has Gone", with Jello… Jello Biafra that is, the legendary singer of the equally legendary punk rock band Dead Kennedys. The Cravats know everything's better with Jello.
And guess what? The Big Takeover is thrilled to be hosting the premiere of "Now The Magic Has Gone" right here, right now!
The song is about two aging theater queens whose everlasting love has tragically fragmented into a thousand shards of bitter hate. It's a tango – and so much more. Against a drunkenly lurching pace, The Shend, in carnival barker mode, exclaims, with quite proper enunciation, the deliciously morbid lyrics (The Favorite -like revenge plots abound).
Biafra, with a wickedly grinning tone, interjects melodramatically, twisting his words (and one delightful meow!) around The Shend.
The wobbly tread of "Now The Magic Has Gone" is filled with rich saxophone wandering, grave-digging bass, off-kilter drum punctuation, cymbals smash, and other swaying instrumentation.
Vicious blasts of punk rock guitar grit suddenly hit like a load of fiery bricks (eh?), but most times the song swirls like a carousel ride, before whipping into a dramatically frenzied ending. Whew, what a ride! Let's go again!
The Shend, in true The Shend fashion, sharedsome, um, important details about the almost-not-making of the song, explaining, "We were about to mix in Jello Biafra's vocals on our duet (Now The Magic Has Gone) and with the clock ticking, I realised I'd lost the memory stick with them on. I remembered putting it in my shirt pocket and recalled leaning over to select a sandwich in Sainsburys. We found it next to a tub of hummus. Bet that never happened to Paul McCartney when he did 'Ebony & Ivory' with Michael Jackson."
Pre-order Hoorahland
Website
Facebook
Twitter
Instagram