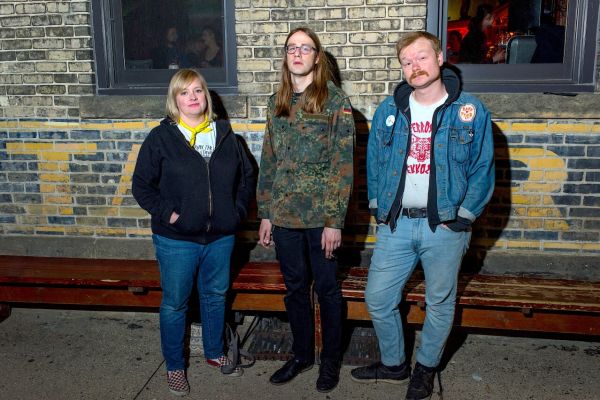 25 September 2019
The Hussy – Photo Credit: Brett Stepanik
Madison Wisconsin's The Hussy have been a power duo since 2008, but their forthcoming Looming LP, which is set to be released on September 27th, sees the band pick up a third member for a thicker sound.
Fronted by both Bobby Hussy (guitar, vocals) and Heather Hussy (drums, vocals), the band has brought their chaotic live show that usually involves fire to stages alongside way too many grunge punk household names to mention here. In addition, the band not only toured with Nobunny, but served as his backing band on tours throughout the United Stages, Australia, and New Zealand.
The Hussy's hyper-prolific output has spanned over 20 different record labels and every format imaginable. Now on garage punk all-star label Dirtnap Records, and with the addition of Tyler Fassnacht (Fire Heads, Proud Parents, TS Foss), Looming takes the band in a decidedly dismal and defiantly dark direction.
The band' may tackle topics such as death, sudden loss, divorce, addiction and these politically depressing times we live in, but don't let the heavy subject matter fool you; The Hussy still have a crafty knack for killer guitar riffs and catchy lo-fi psych-punk vibes that they have become known for!
The Big Takeover is mighty pleased to host the premiere of psych-tinged garage rocker "Ode To Self", a rough and rousing track off of Looming. The emphatic drum beat propels the tune forward as it continues to run with slashing guitar burn and a bouncing bass line. Heather Hussy shouts out the lyrics with fiery defiance, adding a spiky edge to the energetically tumultuous atmosphere.
Preorder Looming HERE
Tour Dates:
September 13th – Minneapolis, MN at 7th Street Entry – Porcupine LP Release Show w/ Season To Risk
September 14th – Madison, WI at Mickey's Tavern w/ Werewolf Jones, Tart, Daughters of St. Crispin
September 19th – Chicago, IL at Reed's w/ Strychnine
September 20th – Springfield, IL at Dumb Records w/ Epsom, Snuff, Black Box
September 21st – Fayetteville, AR at Backspace w/ The Wirms
September 22nd – Dalls, TX at Ruins in Deep Ellum
September 23rd – Austin, TX at Hotel Vegas w/ Xetas
September 24th – New Orleans, LA at Circle Bar w/ Thelma and the Sleaze
September 25th – Hattiesburg, MS at The Looney Bin
September 26th – Memphis, TN at Hi-Tone – Gonerfest 16!
October 11th – Madison, WI at Crystal Corner Bar – Turkeyfest 10 w/ SERVICE, Vacation, Ruin Dweller
October 12th – Chicago, IL at Thalia Hall w/ Thee Oh Sees, Prettiest Eyes
October 13th – Detroit, MI at Outer Limits w/ Science Man
October 14th – Cleveland, OH at Little Rose Tavern
October 15th – Pittsburgh, PA at Rock Room
October 16th – Washington, D.C. at Slash/Run w/ Natural Velvet
October 17th – Philadelphia, PA at Century
October 18th – New York City at TBA
October 19th – Stamford, CT at Boy's Club w/ Jacques Le Coque
October 20th – New Haven, CT at Three Sheets w/ Jacques Le Coque
October 21st – Boston, MA at The Greek w/ G Gordon Gritty
October 22nd – Providence, NJ at News Cafe
October 23rd – Salem, MA at Front Street Coffee House
October 24th – Montreal, Quebec – Canada at Quai des brumes
October 25th – Buffalo, NY at TBA
October 26th – Cincinnati, OH at MOTR w/ The Harlequins, Psychotic Reaction