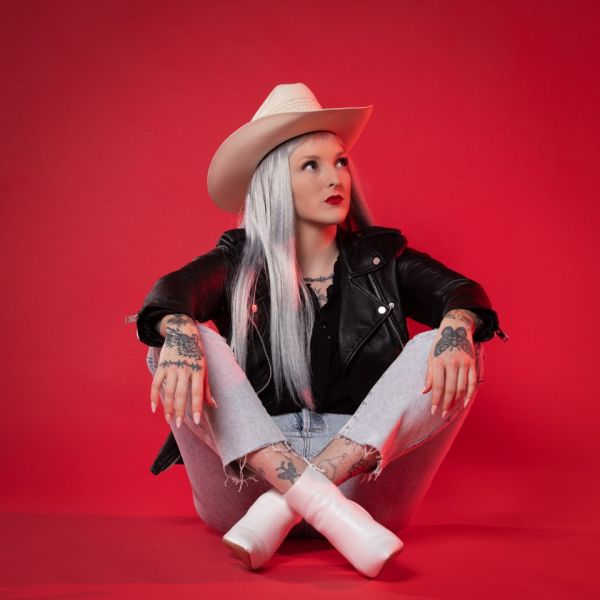 14 December 2020
Heather Littlefield of Danger // Chain – Photo Credit: Aaron Wheetman
Danger // Chain began as an amusement for writer and producer Heather Littlefield. The name was created when she was working on her 1984 Honda motorcycle. The bike had been flooded three times during hurricane season, and as a result, the chain had become so rusted that a friend dubbed it a "danger chain."
Somewhere between the commotion of revving engines, 1980s hardcore music, and mechanical-themed satire, Danger // Chain was born. What started as a project to rebuild an old bike became a journey into retro-futurism.
The Danger // Chain project exists in an alternate reality where the '80s never ended, but evolved to reflect the current socio-political climate. Littlefield's synths-driven compositions embody the landscape of darkwave – a music that reflects the deeper part of the human experience.
Littlefield is actually known mostly for her tongue-in-cheek songwriting and traditional approach to country music, and her tendency towards irony may fool you into thinking she doesn't take things too seriously. Yet Littlefield is far from being a novelty songwriter, and her work in Danger // Chain illuminates the darker corners of her creative persona.
The artist's upcoming EP, Roses In A Glass, arrives on February 14th. She's already dropped the title track with an accompanying video, and today Big Takeover is pleased to host the dreamy and brooding EP-ender "Once Upon A Time."
While the timely lyrics speak to isolation and unity in the face of life's challenges, the music emanates like a shadowy reverie from an '80s time capsule. Littlefield's velvety and deep vocals drone over a slowly winding synth line, occasional bright synths sparkle, and a subdued drum beat.
Strokes of reverberating Western guitar lines push the number forward and add a touch of Americana to an otherwise darkwave-centered song. Littlefield's moody tone lightens as "Once Upon A Time" progresses, emotionally offering some solace to those who are pain – that life can get better.
Littlefield digs into the meaning of her lyrics, explaining, ""Once Upon A Time" is a song of solitude and solidarity. It aims at bringing comfort and a sense of community to those who have suffered isolation and great loss this past year. It's a love letter to those in fear and mourning – a protest against the continued violence instigated by systems of injustice. It's about learning to have hope, creating a world where freedom from oppression is not just a fairy tale but a reality. Some may say this is idealistic, that freedom is an impossible fantasy. True fantasy is denial that change is possible."
You can also check out the music video for "Roses In A Glass":