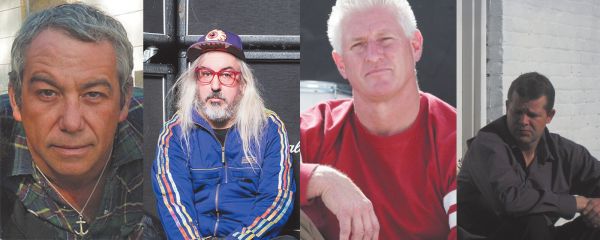 11 February 2019
Unknown Instructors – Photo courtesy of ORG Music
Well-known true super-group Unknown Instructors should need no introduction, but just in case you've missed out on previous albums, The Big Takeover is mighty excited to host the premiere of "Out in the Cold", a striking cut off the outfit's upcoming 4th album, Unwilling To Explain. The LP arrives on CD and digital formats February 22nd and on vinyl March 22nd via Org Music.
Unknown Instructors is comprised of renowned veteran musicians Mike Watt on bass (Minutemen, Firehose), drummer George Hurley (Minutemen, fireHose), and poet/vocalist Dan McGuire.
For this go-around in the studio, they brought in eminent rock guitarist and singer-songwriter J. Mascis of Dinosaur Jr., whose 1994 track "Over Your Shoulder" is mysteriously charting in Japan at the moment over the likes of Ariana Grande (Yes, there are many news articles dissecting this phenomenon right now).
Unwilling To Explain is the first album from Unknown Instructors that wasn't entirely improvised. The group seamlessly blend elements of jazz, punk rock, spoken word, noise, and art rock for a truly unique listening experience. The LP was mastered by Dave Gardner at Infrasonic Mastering.
"Out in the Cold" is a sonically kicky and sizzling number, pushing along with a peppering of McGuire's conversational spoken word, Watt's rubbery, low-end bass line, thumping drum beats and shimmering cymbals from Hurley, and J. Masics' burning guitar licks.
McGuire reflects in a dreamstate that probably was/is reality… Of a bus on the way to "everywhere and nowhere", painting vivid images of the passengers and the feeling of the ride. This is the spare, lean poetry of gritty city streets and the anonymity, yet closeness of its denizens who are traveling "too far away from love…"
Pre-Order Unwilling To Explain at ORG Music's Website
Mike Watt Website
J. Mascis Website
comments powered by