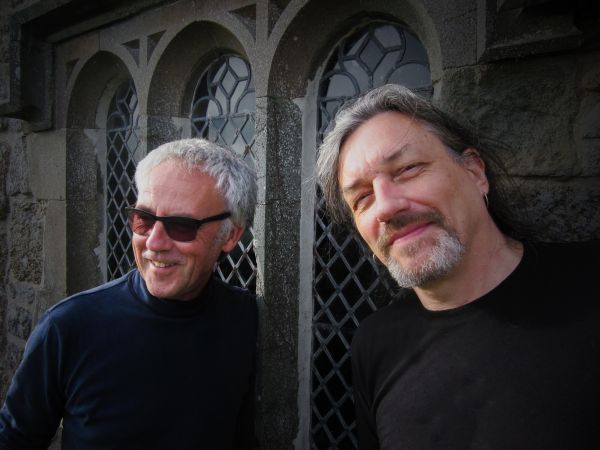 31 October 2018
Noctorum – Photo Credit:
It's always a good thing to introduce listeners to new music by legendary artists, and even more of a pleasure to be hosting the premiere. Today comes a first listen for the track "Piccadilly Circus in the Rain" by Noctorum, a duo comprised of guitarist/singer-songwriter Marty Willson-Piper, most famed as co-frontman of The Church, but also member of All About Eve, and British producer Dare Mason.
This song will appear on the album The Afterlife, Noctorum's fourth LP and the first long-play in seven years. It will be released exclusively on CD and gatefold vinyl to PledgeMusic contributors in November, so get your pledges in. The general release of this album will only happen later on – in February 2019 via the Raleigh-based label Schoolkids Records.
"Piccadilly Circus in the Rain" is a breath of fresh air with just the right mix of upbeat instrumentation and an attractive tandem of male and female vocals. Gentle, mellifluous guitar lines are whisked about by a brisk drum beat, while Willson-Piper's sweetly soft and fluid vocals offer up a bittersweet portrait of Londontown. He's echoed at times by airy female vocal accompaniment and bright brass notes, and always lifted up by a light dance of piano keys. The track is superb and stands up to anything ever released by The Church or All About Eve.
Named for the village Noctorum, located near their childhood homes on The Wirral (not far from Liverpool), Mason and Willson-Piper liked its association with night and its Latin derivation. This collaboration has an eclectic focus, making the quiet loud and vice-versa, singing words that might be spoken and playing indoor instruments that should be heard outside. It has to be imagined to exist.
Marty Willson-Piper has been writing and performing internationally for over 35 years. As a long-term member of Australian psychedelic rock band The Church, he was with them from its inception through to 2013. He joined All About Eve in the 1990s, releasing two studio albums and several live albums with them. He is also lead singer and lyricist with Swedish band MOAT and a touring member of Swedish prog legends Anekdoten. Since the mid-1980s, Willson-Piper has maintained a steady solo output, releasing six solo studio albums and three live solo albums to date. He has also co-written music with many artists, including Grace Slick, Aimee Mann, Susannah Hoffs, and Linda Perry.
As a house engineer at London's world famous Townhouse Studios, Dare Mason has worked with the likes of Prince, Paul McCartney, Boy George, Tina Turner, Ravi Shankar, and Soul II Soul, among others. After becoming a freelance producer/engineer in 1991, he produced albums for The Grid, The Church, Placebo, and AC Acoustics, working in London, New York, Sydney and Stockholm. He finally moved to Cornwall, where he set up the VIP Lounge studio in 2001. Nowadays, Mason is mainly known as a mixing engineer, having mixed recordings by Brix Smith (ex The Fall), Cinerama, and Tommy Tokyo. Mason is also a composer, songwriter, and accomplished guitarist, singer and dabbler in keyboards, usually contributing musically to the artists he produces.
Marty Willson-Piper graciously shared these words about the new single:
"I've lived or spent long periods of time in many cities in the world. From Liverpool and Manchester as a young man to Madrid and Berlin as I grew. Before moving to Stockholm for a few years, I lived in Sydney and later New York. I have been lucky to enjoy Amsterdam, San Francisco and Los Angeles as a musician in the studio, spending many months getting to know these cities. Over the years (in the seventies and the late nineties) I lived in different parts of London, mainly in the West – Ealing, North Acton, West Kensington and Ladbroke Grove, with a stint in Finchley in the North of the city."
"Perhaps city-living is by definition a difficult slog – high rents, a constant pressure to earn, an uphill battle that traps you in a vicious circle that has you so focused on the job of survival that your aspirations, your dreams, are swept aside, pushed out of reach as all your waking hours are spent treading water, your imagination drowning, your ideas lost in the rush hour."
""Piccadilly Circus In The Rain" addresses the struggle and questions the romantic notion of London as a cultural melting pot – music, galleries, nightlife, history, energy, red double decker buses, unarmed friendly Bobbies, the cover of Abbey Road and the Queen. Signaling out this city is purely coincidental but in truth, for most people with artistic tendencies "London brings you to your knees"."
As of November 8, "Piccadilly Circus in the Rain" will be available across online stores and streaming platforms. The full album The Afterlife album can now be ordered via Pledge Music
CREDITS
Marty Willson-Piper – lead vocal, electric lead and rhythm guitars, bass, Swedish cittra
Dare Mason – keyboards, backing vocals
Olivia Willson-Piper – backing vocals
Richard Evans – trumpet
Steve Jackson – drums
Written and produced by Marty Willson-Piper & Dare Mason
Lyrics by Marty Willson-Piper
Recorded and mixed by Dare Mason at the VIP Lounge, Penzance, England
Mastered by Poppy Weinberger for Riverfish Mastering
Design by Olivia Willson-Piper & Lizzie Tucker
MARTY WILLSON-PIPER TOUR DATES
10 Nov HELSINKI, FINLAND – Nordic Music Days (as part of Anekdoten)
22 Dec BURG STERNBERG, GERMANY – Geisterfest
02 Jan LANDSBERG, GERMANY – Café Zirnheld (TBC)
Also check out "A Girl With No Love" and a video on the making of 'The Afterlife' album"
NOCTORUM
Noctorum Website
Marty Willson-Piper Website
Noctorum Facebook
MWP Facebook
Pledge Music
Soundcloud
YouTube
Spotify