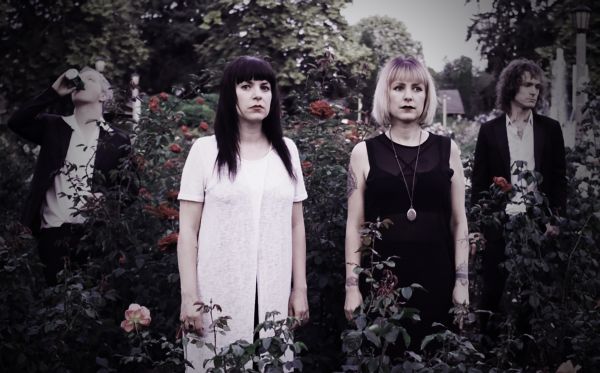 14 November 2019
Shadowlands – Photo courtesy of Shadowlands
Portland, OR-located dark, yet dreamy post-punk band Shadowlands are returning with a new album titled 003 on November 22nd via Icy Cold Records.
When Shadowlands' guitarist of four years recently announced he was leaving the band, vocalist and lead songwriter Amy Sabin was grappling with the recent death of a close friend. Sabin had the first few songs from 003 already underway, but she was struggling to find direction after the loss of her friend.
Shadowlands experienced a rebirth with the addition of Amy's identical twin sister Angie Sabin on guitar. The band is rounded out by Amy's husband, Casey Logan, on drums and Amy's "band husband" (she jokes it's an official title earned after 15+ years playing in bands together), Jesse Elizondo, on bass.
Together, this family affair creates dark post-punk music that is steeped in themes of anxiety, fear, depression, and isolation.
The Big Takeover is pleased to host the premiere of "Pining for Time," an ethereal and atmospheric lament from the band's third LP.
A delicate pattern of analog synth notes cycles amid a burning guitar refrain, skittering percussion, subdued bass line, an occasionally ringing guitar line, and peppering drum beat.Amy Sabin's vocals float over the gentle sonic turmoil and are imbued with melancholic rue as she muses in a rich and velvety tone. her emotions reverberating through the never-static track.
"Pining for Time" explores several connected chains of thought with regard to the current state of society and our expanding connection that "is ultimately all about control and results in isolation," according to Sabin. Exploring several topics at once lyrically is a way for Sabin to leave the meaning of the song open for interpretation. "It's always more interesting through your personal lens and if you as a listener can apply your own meaning to the song, so this track captures a meandering thoughts that often have several layers of meaning," she says.
Preorder 003 at Bandcamp
Shadowlands will be celebrating their new album with release shows on Nov 23th in Portland OR at Fixin To, and Dec 14th in Seattle at Highline.
Icy Cold Records Facebook
Shadowlands:
Facebook
Twitter
Instagram
YouTube