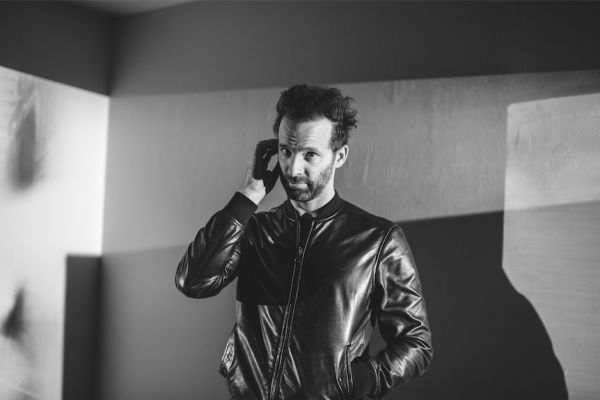 14 January 2019
Matt Shapiro – Photo Credit: Jesse Anders
Montreal-raised and NYC-based singer-songwriter Matt Shapiro is releasing his new 6-song EP Fade In on March 8th, a follow-up to his previous album Metaphysical. Where that record was panoramic and epic in sound, Fade In finds Shapiro in a starker mood. He explains, "This one's more disciplined, and really stripped down to essentials…more like a scrappy little indie. And it has more bite."
And more reverb, as evidenced by EP-opener "Rockaway Girl", which The Big Takeover hosts the premiere of today. It's an up-tempo strummer and hummer that dashes off the starting line of the track and quickly introduces the distorted synth-organs that are one of the record's sonic hallmarks. It's an exuberant, lo-fi affair with organs grinding alongside pulsing bass and drums and Shapiro's reverb-drenched vocals floating overtop.
Shapiro digs into the meaning behind "Rockaway Girl", stating, "I wanted to write something you could crank in your car on a summer's day with the windows rolled down- a beach-y song that made sense for NYC. Rockaway seemed like the quintessential locale. My initial demo was more a straight ahead homage to the Ramones but I knew that wasn't going to cut it. Everything fell into place when we got that Suicide/distorted organ sound happening. This was the first song Fraser [McCulloch, Shapiro's frequent collaborator and producer, and member, of critically-acclaimed indie band Milagres] and I worked on and ended up setting the tone for the whole EP. The lyrics sketch a hipster dream girl and are based on someone from my real life. This is my Say Anything standing-outside-the-window declaration of love to my big crush."
Prior to Fade IN, Shapiro recorded three solo albums and engaged in several successful collaborations. To The Moon, his co-write with DJ/producer Tone Depth, garnered critical acclaim and was picked up by Dave Seaman's Audiotherapy label in the UK and commissioned for several remixes. The track was championed by top DJ's, including the legendary Tiesto, who featured it during his live set. In 2016, the duo would collaborate again on "Halls of White", which was released worldwide by Noir Music (Denmark).
On the solo side, several Shapiro cuts have been placed in such TV shows as the Gemini Award-winning Canadian television show 15 Love, Charlie Jade (a Canadian/ South African co-production), the Canadian reality series Webdreams, the CW's reboot of Melrose Place.
comments powered by