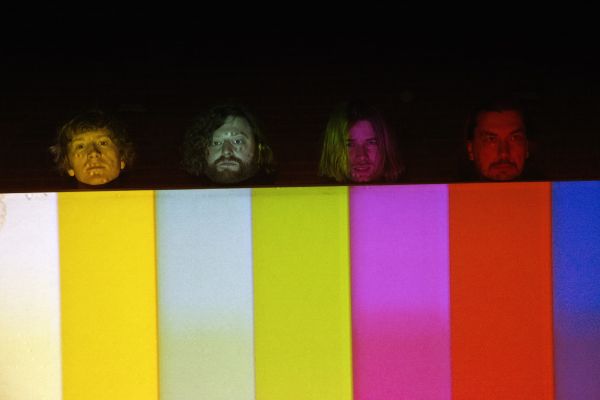 2 February 2021
Camera – Photo Credit: Jan Michalko
With the band's tenth anniversary in their viewfinder, Camera are all set to click the button on Prosthuman, their fifth studio album, which arrives February 19th via Bureau B Records.
As befits an age in which realities can change in the blink of an eye, from one day to the next, the Berlin, Germany-located band never tire of changing themselves, their music, and/or their personnel.
As Karlheinz Stockhausen has noted, "New methods change the experience. New experiences change man." Taking this as their lead, Michael Drummer (yes, the drummer) and Camera surprise us once more on Prosthuman as they reinvent and reformulate their sound without sacrificing the project's identity that has evolved over the past decade.
Less surprising is the fact that Camera is often compared favorably with Krautrock pioneers like NEU!, Can, and La Düsseldorf.
This time around Drummer is joined by Tim Schroeder, who first teamed up with Camera as a performance and video artist on their six-week tour of the USA in 2017. Over the course of various jams and recording sessions, he was able to offer ample proof of his synthesizer skills. Alex Kozmidi, a musician and composer with a flair for experimentation, completes the triumvirate on guitar, with Drummer adding his own guitar riffs here and there.
Change and friction can be useful allies in pursuit of creativity, something to which Drummer has grown accustomed as the only ever-present member of the band. The pleasures and pain of isolation – suddenly a mass phenomenon in pandemic times – are well -nown to the quasi-frontman of the group.
Over the years, he has spent many hours alone or with a shifting cast of co-musicians in the band's basement studio, beneath a former factory site in a less-than-hip southern district of Berlin. Virus-induced social distancing and quarantine measures that came into force during the recording process (June 2019 to June 2020) thus posed no great challenge.
Big Takeover is pleased to host the gritty and driving "Schmwarf" that's dented with noise as it pushes forward with bold determination.
Exclaimed sing-talking vocals are punctuated by quirky electronic notes, engine-like revs, clanging and clicking percussion, acrobatic drumming, and a chugging pace, creating a disorienting space that verges on cacophony, but is held together by sheer will.
It could be about human (dis)connection. It could be about life and death. Take it for a spin and see what happens on the trip…
Website
Facebook
Twitter
YouTube