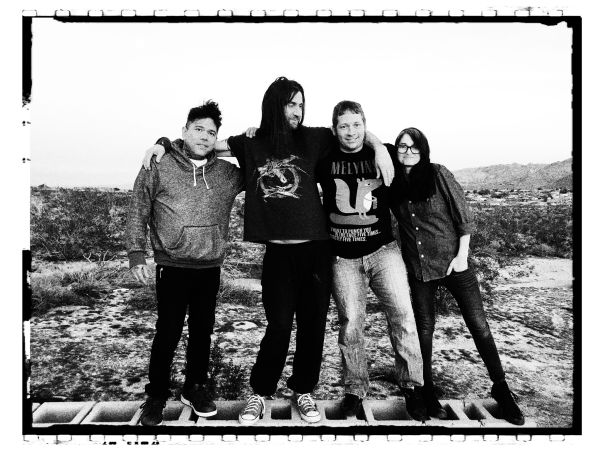 28 May 2020
Household Gods – Photo Credit: Dave Catching
With over 80 records between them, the members of Household Gods are no strangers to making records. However, their new album, Palace Intrigue, which was recorded at Joshua Tree's Rancho De La Luna studios (Yes, the same studio that housed so many of the Desert Sessions and produced work like Iggy Pop's Post-Pop Depression) and produced by the inimitable Dave Catching is very special.
Creation for the act of creation, in an environment designed for it. No expectations, no rules, no problem.
The parties involved? David Pajo of Slint, Papa M, Zwan, and many others. Vern Rumsey of the mighty Unwound, Conan Neutron of Conan Neutron & the Secret Friends and Replicator, and the now-dearly departed Lauren K. Newman (LKN) of Palo Verde and LKN Band.
How did this collaboration happen? Irrelevant. It just did. Every once in awhile something cool happens for its own sake; not because somebody is trying to make a buck or work an angle.
Sounding a little bit like the previous work of all involved, and a little bit like something totally different. Unfortunately, the entire enterprise took in a different feel in December 4th, 2019 as Lauren K. Newman. (LKN) passed away due to complications due to advanced Crohn's disease. The record was finished up, to be released to the world on June 5th, in part as a memorial to LKN's life and work.
Will there be live shows? Will there be more records? The way the world is turning these days, nobody can say.
What we can say here at Big Takeover is that we're super-stoked to host the premiere of the desert/post-rock rumination/exaltation "Shine Theory" from the album. Kate Wakefield of Lung guests on airily floating vocals, with Pajo and Neutron on guitars, Rumsey on bass, and Newman on drums.
A scraping guitar line opens the compelling "Shine Theory" on a noisier, discordant tip, burning with fervor, before a measured drum beat, scintillating cymbals shimmer, dark bass line, and simmering guitar notes are introduced.
Mid-way through the tune, the reverberating guitar buzz returns, carving out a sharp and shining arc in the sonic landscape. Wakefield's vocal materializes like an angel alighting on Earth, as she rejoices, "Together we all shine a little brighter now."
Household Gods sent this link that explains what 'Shine Theory' means:
"Shine Theory is a practice of mutual investment with the simple premise that "I don't shine if you don't shine." It's a term journalist Ann Friedman coined with writer Aminatou Sow to describe a commitment to collaborating with rather than competing against other people—especially other women."
"Shine Theory is an investment, over the long term, in helping someone be their best self—and relying on their help in return. It is a conscious decision to bring your full self to your friendships, and to not let insecurity or envy ravage them. Shine Theory is a commitment to asking, "Would we be better as collaborators than as competitors?" The answer is almost always yes."
"People know you by the company you keep. Shine Theory is recognizing that true confidence is infectious, and if someone is tearing you down or targeting you as competition, it's often because they are lacking in confidence or support themselves. It's a practice of cultivating a spirit of genuine happiness and excitement when your friends are doing well, and being there for them when they aren't."
"Don't mistake this for networking. Shine Theory is not about trying to help everyone you meet along the way in your career, because if you're doing it right, it's simply not possible to invest deeply in that many people. There are only so many hours and so many email replies in any given day."
"Shine Theory is intentional. It is accountable. It is personal."
Pre-Order Palace Intrigue at Bandcamp