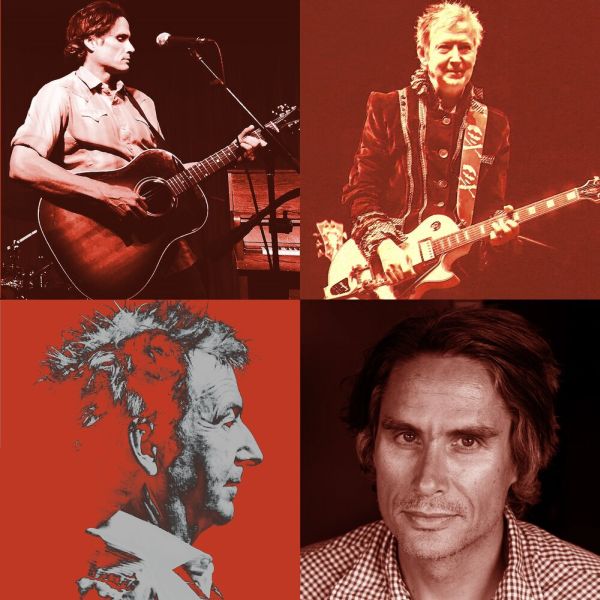 8 December 2020
Bob Hillman & Spooky Ghost – Photo Credit: Tim Robinson
San Francisco's Bob Hillman is a singer/songwriter known for bright, euphonic pop/rock and spare, acoustic introspection.
But for his new release, a collaboration with Hinterlands founder and Suzanne Vega producer Gerry Leonard, he is releasing a long-distance joint affair, the self-titled Bob Hillman & Spooky Ghost album this Friday, December 11th.
Hillman calls the resulting music "noise folk", a mix of ambient and exploratory soundscapes that will surprise his old fans and prick up the ears of those craving mostly improvisational material.
Unlike Hillman's other projects which tend to cohere around lyrical themes, Bob Hillman & Spooky Ghost reflects a sonic construct. "Although, in hindsight, lyrical themes emerge: identity, mystery, paranoia. Who are we, really?" he asks.
Bob Hillman & Spooky Ghost features Hillman (acoustic guitar, lead vocals), Leonard (all other sounds), and Jaimee Harris (harmony vocals), with Paul Bryan (bass) and Yuval Lion (drums) on one song. Rick King tracked Hillman's acoustic guitar and vocals in his home studio in Lafayette, CA, and everyone else recorded themselves.
Big Takeover is pleased to host the premiere of atmospheric "Somebody's Watching You" from the self-titled album.
The song is centered with a core of gentle acoustic guitar strokes from which spin off lots of quirky electro-tech/industrial sonics. Hillman's hushed and lightly pensive vocals are backed by Harris' airier tones, and their harmonies add a delicate touch to the more gritty and foreboding instrumental ambience.
About the track, Hillman relates, ""Somebody's Watching You" is unique in that there's no chorus or repetition of any kind; that contributes to an overall feeling of paranoia, which the 'story' – which references shadowy figures leveraging technology to spy on us from their aeries/dens – reflects."
Hillman goes into interesting detail about the meaning and making of the song, divulging, ""Somebody's Watching You" started with Gerry's loop: a rhythmic squiggle that suggested a time signature and a minor-key mood. I roughed out a musical setting, came up with the first line, and followed the vibe into a lyric about paranoia that seemed fitting for the time, which was the beginning of the Trump presidency."
"The particulars of the story are hazy, but there's atmosphere to burn and images that conjure the specific settings: a skyscraper, a surveillance room, a highway underpass."
"Although I started the song in San Francisco, I finished it in Taipei, where my older son and I had traveled for summer camp (both of my kids went to Chinese school at the time). I remember pondering the last couple of verses on the Maokong Gondola, which travels up and over Elephant Mountain."
"A few days later – after I'd finished the song and sent a spooky-quiet voice memo back to the States for Gerry's feedback – I fractured my ankle while running on that mountain and had to walk a mile and a half back down and then find my way to the hospital for treatment in a language I didn't speak."
"Finally, the only video credit is me. I used images that set the scenes without being too "on the nose" and filters that would distort the environment in various ways, contributing to an overall sense of paranoia."
Website
Facebook
Twitter
Instagram
YouTube
Spotify