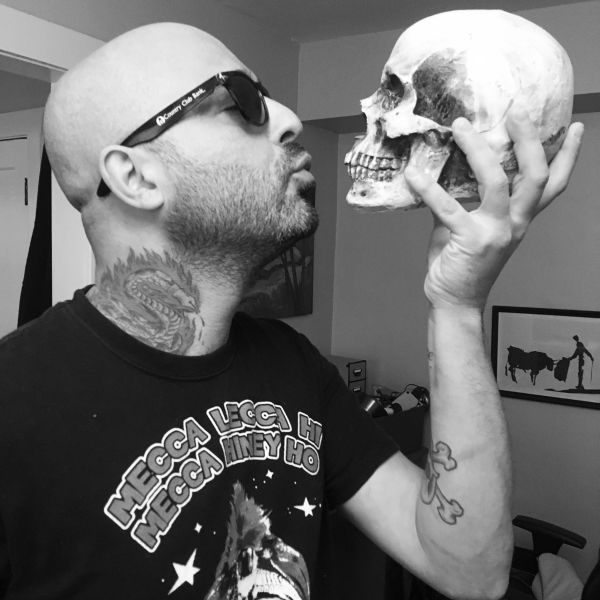 7 January 2020
Brandon Phillips of Mensa Deathsquad – Photo courtesy of Brandon Phillips
Mensa Deathsquad is the the dark synths/electronics-based alternative solo project from Kansas City, Missouri-located Brandon Phillips (The Architects, Other Americans). His debut album, Patient Zero, comes to life on January 14th.
The album is a retro-futuristic aural attack swinging with broad, slashing strokes of inky dance floor gloom reminiscent of classic works by Depeche Mode, Jesus and Mary Chain, and Sisters of Mercy. From beginning to end, Mensa Deathsquad delivers lethal radio-ready production without sacrificing stark and heavy fatalism.
There's a reason for this darkness, with Phillips revealing, "I am as close to a professional patient as you are likely to find. Crohn's Disease, PTSD, drug addiction; I've been a patient quite a lot. I've lived through serious illness the way a bullet lives through a wall; there was less of me when I emerged on the other side, but what's left is bent and blunt."
Phillips, under the Mensa Deathsquad moniker, has previously released a Sparkling Doom remix of his Other Americans' track "Salt Mines."
The Big Takeover is pleased to host the premiere of the sharply cutting track "Spell," It's an absorbing electronic-darkwave hybrid featuring a glossy-noir production that buffers Phillips' spikily emotive and echoed exclamations.
Industrial beats, cavernous bass line reverberations, and quirky electronic twists create a restless atmosphere that's amplified by Phillip's winding vocal lines.
Facebook
Mensa Deathsquad Twitter
Brandon Phillips Twitter
Bandcamp