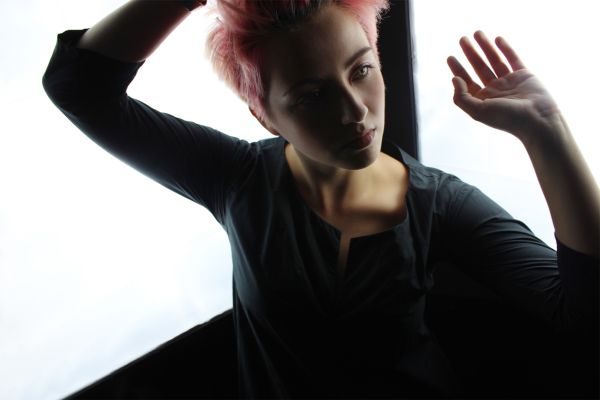 5 February 2019
Rose Berlin of SPC ECO – Photo Credit: Awesome Welles / Wombbaby
A few days ago on social media, renowned CURVE kingpin Dean Garcia announced that the next album from SPC ECO, his duo with daughter Rose Berlin, would drop mid-month. So just 10 days from that, they reveal the lead single from this album, which we are delighted to be premiering today at The Big Takeover.
"The Heart and Soul" is a strong offering and sets the tone for this LP. Berlin and Garcia wrote this song together with Jarek Leskiewicz, with whom Garcia shares another project called Blurred City Lights. The song begins with a reflective atmosphere of gentle synths and electronics and Rose Berlin's subdued, but aerial vocals. Over time, the intensity rises with a coruscating sharpness and Rose Berlin's stretched out, ethereal vocals that take the listener to another soundsphere.
Entitled Fifteen, presumably for the 15 tracks featured within, this long-player will be issued exclusively through SPC ECO's Bandcamp. This release follows the band's Calm LP and Under My Skin EP, both released in 2018.
If the demise of ground-breaking duo Curve was a storm-cloud in the musical skies of the '90s, the silver lining was that Dean Garcia went on to form SPC ECO with his daughter Rose Berlin in 2008.
An electronic musical maverick, Dean's style complements Berlin's vulnerable, yet tender vocals. As a father and daughter, they explore their relationship and the world around them through music, creating heartfelt sounds to express the language of their souls and conversations that are often too difficult to be encapsulated by mere words.
"This album means everything to us. A collection of songs that simply happened to us over a period of the 9 months or so it took to record, during which time there have been numerous uncomfortable, unsettling and challenging changes all around us, not just to our personal real life situations as to where we live, but also to the catastrophe of various unaccountable, blatantly corrupt governing bodies that perch menacingly over us all like death itself," says Dean Garcia.
"This record is about that, this and the other, a selection of recordings that mean more to us than we can ever possibly know. We do know they're our escape and energy, the glue that keeps our family together, the means to cope, deal and adapt which all goes towards making it The Heart and Soul of us, which by careful consideration is the first track we're releasing to introduce this record."
With minimal symphonic landscaping and gossamer vocals, SPC ECO have created something that is vast and beautifully pervasive. Here we find a collection of moods, wistful reflections made into sound, and barely tangible, but emotively powerful expressions.
Last year, the 25-year-anniversary of Curve brought releases of deluxe editions of both Cuckoo and Doppelganger and output from Dean Garcia's other sonic adventures, including Blurred City Lights (noted above), S T F U with Preston Maddox and two collaborative tracks with dreampop outfit Ummagma He also releases as M A D together with Steve Monti from Jesus & Mary Chain.
SPC ECO;s Fifteen will be available exclusively via Bandcamp. In the meantime, you can find their previous releases everywhere, including on iTunes and Spotify.
CREDITS
All songs written by Rose Berlin and Dean Garcia
Except :The Heart and Soul: Written by Rose Berlin Jarek Leskiewicz Dean Garcia
Recorded Mixed and Produced by Dean Garcia
Recorded at the ELaB in London and GWYR
Except :The Heart and Soul: Recorded in Opole and GWYR
This record was made between March 2018 / Jan 2019
Cover image 'Taplow' by Rose Berlin
Photos taken by Awesome Welles / Wombbaby
Rose Berlin – Vocals and Lyrics
Dean Garcia – Bass, Drums, Guitars, Keys and Programming
Jarek Leskiewicz – Guitars, Drones and FX
Monti – Drums and Noise Loop FX
Wombbaby – Special FX
TRACKLIST
1 Fading Out Of Time
2 Teach Yourself
3 That's It Well Done
4 Fifteen
5 Out In The Cold
6 The Heart And Soul
7 Breathing
8 Melancholia Mania
9 Stars
10 Left Out
11 In Silence
12 Gloria Sudafed
13 Never Can Know
14 The Reason Why
15 The Little Ones Out Of Time Mix
Also check out some visuals from their past few releases:
SPC ECO
Facebook
Bandcamp
SoundCloud
Twitter
YouTube
Tumblr