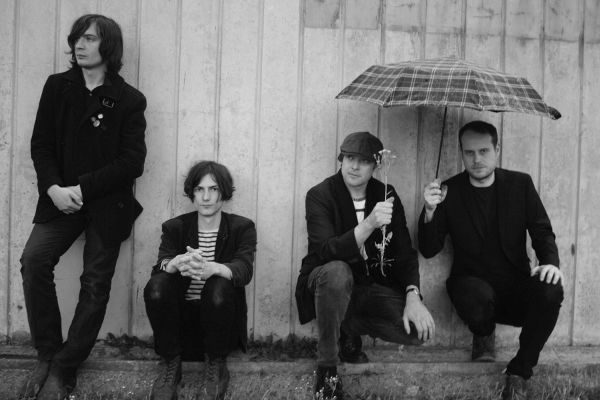 11 February 2020
The Academy of Sun – Photo Credit: Liene Lisovska
From their home-base in Brighton on the southern coastline of Britain, The Academy of Sun will soon be releasing their new long-play The Quiet Earth. While music aficionados will need to wait until the official release in April to hear the whole thing, today we offer a sampling of what's to come via the lead track 'The Parts That Need Replacing', the kind of track you will feel comfortable putting on repeat in the same way that you didn't tire of XTC, Suede, or even The Hollies for that matter. There's a really special je-ne-sais-quoi factor present here.
The Quiet Earth promises to offer "a colossal meditation on dystopia, irradiated landscapes and extreme states of human emotion, taking in post-punk, chamber ballads and darkly prog studio epics". Having previewed a few of the tracks now, we have no doubt about this. After all, The Academy of Sun (a.k.a. TAOS) have managed to gain the support of such important music icons as Julian Cope and Stuart Braithwaite of Mogwai. This comes as no surprise given how brilliant and dynamic their music is.
Their forthcoming 15-track collection was recorded at Church Road Studios in Hove, with Paul Pascoe, whose studio work includes the last 2 albums by Barry Adamson of Magazine / Nick Cave and the Bad Seeds fame.
The Academy of Sun is a four-piece led by Nick Hudson (piano, synths, Hammond organ, harmonium, vocals, percussion, synths), along with Kianna Blue (bass, synths), Guy Brice (guitars), and Ash Babb (drums). 'The Quiet Earth' follows their 'Codex Novena' LP (2017), a hypnotic, doomy opus that found its way onto both Dangerous Minds and Sweeping The Nation end-of-year lists, and more recent singles 'The House' and 'Rose Devoid of Form'.
"The Parts That Need Replacing' was written to sate my desire to 'reconsecrate' 16th Century Hungarian countess and noblewoman Elisabeth Bathory, whose reputed cannibalism and serial murders were most likely reputation-staining fantasies dreamed up by the church out of institutional jealousy. How could a woman possess such vast wealth and estates AND resist conformity with the church's ways of being. Same tarring-brush as used on Jeanne D'Arc and Gilles de Rais," says Nick Hudson.
"Usually Bathory is immortalised in doom and black metal, so I wanted this reconsecration to take place by feeding these myths, scenarios and allegations of bloodbaths, black magic and eternal life into the medium of a hyper-catchy, high-energy pop song. (Replete with puns on her name, special effects in modern Hollywood, botched haircuts…) Also perversely I of course wanted to write an extremely catchy song with horrific lyrics to get people blithely singing along!"
Nick Hudson has been active in various incarnations since 2012, always transcending expectations. The Academy Of Sun has collaborated with Massive Attack's Shara Nelson, members of NYC's Kayo Dot, David Tibet of Current 93, Asva and Matthew Seligman (Bowie, Tori Amos, Morrissey). Hudson has also collaborated with Wayne Hussey of The Mission, as well as Canadian queercore icon GB Jones.
TAOS is known for explosive and psychedelic live shows, often in exotic venues, including playing live with post-rock legends Mogwai and a string of L.A. shows in late 2019. Having toured 3 continents, highlights include appearances with Mogwai, Toby Driver and Keith Abrams from Kayo Dot, and Timba Harris (Mr Bungle, Amanda Palmer).
On March 13, 'The Parts That Need Replacing' will be available across online stores and streaming platforms such as Spotify. The full album The Quiet Earth will be released on April 24 on CD, as well as digitally.
SINGLE CREDITS
Nick Hudson – piano, synths, hammond organ, harmonium, vocals, percussion, synths, writing, arranging, co-producing
Kianna Blue – bass, synths, additional writing, co-producing
Guy Brice – lots of guitars, additional writing, co-producing
Ash Babb – drums, additional writing, co-producing
Music and lyrics written by Nick Hudson. Arranged by TAOS.
Paul Pascoe – engineer, mix, mastering. Church Road Studiosm Hove, UK.
Cover artwork by Ash Babb
TOUR DATES
Feb. 16 Worthing, UK – Bar 42
Mar. 01 Brighton, UK – The Hope And Ruin (Oli Spleen album launch)
Mar. 14 Worthing, UK – Train Of Thought Emporium (solo show)
Mar. 28 London, UK – TBC
Apr. 30 Brighton, UK – The Hope And Ruin (Fragile Creatures album launch)
Also enjoy TAOS' rendition of 'The House', an earlier-released single that also appears on the forthcoming album, performed live at Brighton Dome while the band were supporting Mogwai
A few Sylvian-esque teasers for the new album:
THE ACADEMY OF SUN
Facebook
Bandcamp
Instagram
Twitter
YouTube