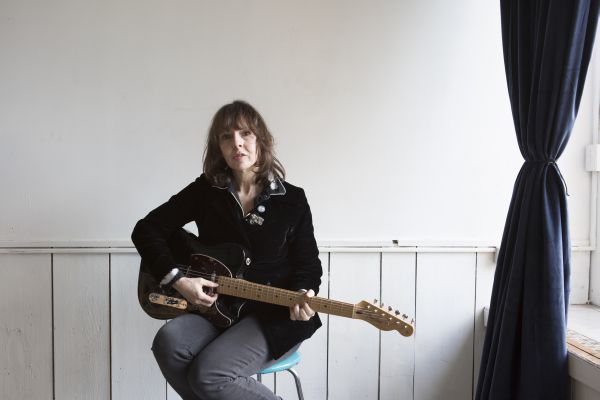 1 February 2019
Amy Rigby – Photo Credit: Ted Barron
Renowned upstate NY-based singer-songwriter Amy Rigby has added to her formidable musical canon with last year's release of The Old Guys album, her first solo album in a dozen years. Acclaimed by critics and peers alike, the 12 tracks are stamped with Rigby's distinctive vocals and on-point lyrics.
Wreckless Eric contributed to the LP and recorded it in Catskill, New York. The Old Guys is the sound of a good girl grown up, but never giving up.
Amy Rigby has made a life out of writing and singing about life. With bands Last Roundup and the Shams in the '80s in NYC's East Village to her solo debut Diary Of A Mod Housewife out of '90s Williamsburg; through a songwriting career in 2000s Nashville and during the past decade with duo partner Wreckless Eric, she's released records on visionary independent labels Rounder, Matador, Signature Sounds, and reborn Stiff Records, as well as her and Eric's own Southern Domestic Recordings. For the last 23 years, Rigby has toured the U.S., Canada, the U.K., and Europe.
The Big Takeover is proud to host the premiere of Rigby's latest track, the potent and relevant protest song "The President Can't Read." The number features Rigby and Eric on vocals cutting sharply and directly, but melodically through strongly strummed guitar lines, a pushing bass line, and punchy drum beat. Their clear and direct singing brings the scathing, timely, and true lyrics into high relief.
Rigby reveals the purpose behind creating this song, stating, "I wrote "The President Can't Read" a month after the 2017 [U.S.] presidential inauguration and have been playing it live and at radio sessions since. It has become one of my most requested songs."
"People ask, Where is all the protest music?" I can only think we are too numb. Feelings of outrage at the current administration have become too commonplace to channel into art or music. How can anger feel fresh or inspiring when regressive and divisive policy and players are in our faces and news feeds every hour of the day and night?"
"At least there is the motivation for people to vote for change."
"I had hoped the song would be obsolete by now — not that the President would've become an engaged human being who cares about anything but his own personal gain enough to read a book or essay or even a short story — but that the farce of this man as our country's leader would have ended and the song could've taken its place on the pile of novelty songs like "Disco Duck", "The Streak", "Snoopy vs. the Red Baron"; the type of songs that make you scratch your head and say, "Did we really live through that?""
Southern Domestic will release a studio version of "The President Can't Read" on February 1st. The song will be available to stream and/or download and as a limited edition CD single.
Listen to "The President Can't Read" ahead of the much-delayed State of the Union speech, which occurs on the same night Rigby is playing The Mercury Lounge – Tuesday, Feb 5th (and go see Rigby perform instead of turning into a zombie in front of the screen!).
Website
Diary of Amy Rigby
Amy Rigby Facebook
Wreckless Eric & Amy Rigby Facebook
Twitter
Instagram
Bandcamp
comments powered by