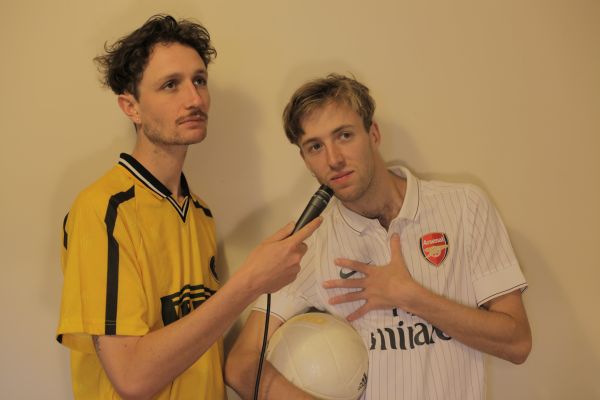 30 January 2019
Skydeck – Photo Credit: Eva Lazzaro
Skydeck (named after the monumental skyscraper that frames Melbourne's reddening sky) is a new musical project based out of Melbourne, co-fronted by Mitch Clemens (Ciggie Witch) and Dominic Kearton (Pregnancy).
The duo's latest track, "Tourniquet Too", follows Skydeck's debut single, "Live Bait", which saw a premiere from Noisey, playlisting on FBi Radio (Sydney) and Most FM (NZ), plus praise from the likes of The Music, Savage Thrills, and more.
The Big Takeover is excited to host the premiere of "Tourniquet Too", a synth-pop and post-punk hybrid running on buzzing noir and brightly twisting synths and dispassionate, yet melodic sing-talking vocals. The lyrics spill forth in a stream-of-consciousness ramble about the anxieties of life. "It's a fine on top of an unpaid fine / It's hiding the fact that you really tried." Clemens drones in his distinctive, monotone vocals that are in stark contrast to the upbeat drums and winding synths.
Skydeck wrote and recorded their upcoming album Eureka Moment as an instrumental LP four years back, using a synthesizer borrowed from a friend. The pair unearthed the files last year and only recently added lyrics to the songs. About "Tourniquet Too", Clemens mysteriously reveals, "With the aim to constrict and compress, stemming the flow of invasive thoughts, the tourniquet provides a sense of restraint and control, where the noose promises quick and conclusive deliverance."