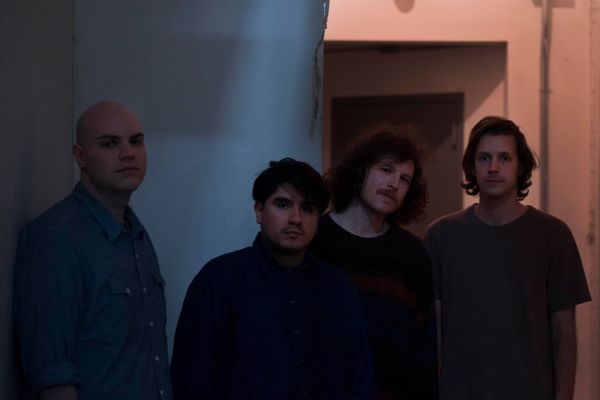 24 April 2019
Holy Tunics – Photo Credit: César Betanco
Brooklyn-based indie pop group Holy Tunics return with a brand new single "Upside Down In Wonderland" and The Big Takeover is proud to be hosting its premiere. "Upside Down In Wonderland" is the lead single off Holy Tunics' forthcoming album Hit Parade Lemonade Supersonic Spree, which is due out Une 14th via Meritorio Records. The album is engineered and produced by Travis Harrison (Guided by Voices, Built to Spill) at Serious Business Studios.
"Upside Down In Wonderland" is a melodic and swingin' power-pop/rock track with have your foot tapping in no time and swaying to the rhythmic thump of the drum beat. Vivid Alice in Wonderland lyrics and direct to dreamy vocals are supported by jagged, but curling guitar lines, and a heavier shadowing bass line.
As the lead vocalist/guitarist Nick Rogers explains, "This new record is inspired by albums like R.E.M.'s Monster, a dive into more rock than jangle and a love letter to '90s alternative radio that spawned our love of the genre. The psychedelic imagery in this song is straight out of Alice in Wonderland which has a wonderfully eerie and childlike quality that fits the subject matter. The singer is blissfully confused by a beautiful lost soul trapped in a psychedelic nightmare. He admires her strength in the face of this challenge. Merely speaking her name is refracting sunlight, turning the singer's head into a prism, and shooting a rainbow into the sky."
Over the past couple of years, Holy Tunics opened for Teenage Fanclub and Gin Blossoms locally, recorded their debut full-length LP Butter Dish (released April 2018 by Meritorio Records), and split a single with *Hamish
Kilgour* (The Mad Scene, The Clean) via GP Stripes. Take a listen and enjoy the Paisley Underground-inspired guitar rock sound.
Holy Tunics will be playing at Baby's All Right (NYC) on May 12th, at Alphaville (NYC) June 22nd for Jeanines album release show, and at Cafe 9 in New Haven, CT, on July 8th.
West Coast Tour Dates:
7/23 AUSTIN, TX
7/24 El Paso, TX
7/25 PHEONIX, AZ
7/26 San Diego, CA
7/27 Los Angeles, CA
7/28 San Francisco, CA
7/29 Reno, NV
7/30 Salt Lake City, UT
7/31 Denver, CO
HOLY TUNICS
FACEBOOK
INSTAGRAM
TWITTER
BANDCAMP
MERITORIO RECORDS
FACEBOOK
INSTAGRAM
TWITTER
WEBSITE